William & Mary Men's Cross Country Finishes Season at NCAA Championship
Men's Cross Country Finishes Season at NCAA Championship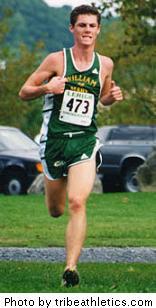 WATERLOO, IA
- Without its top runner, 2003 CAA Champion William and Mary men's cross country concluded the cross country season by racing at its seventh-straight NCAA Championship, finishing in 31st. Running the 10,000m course at the Warren Memorial Golf Course in Waterloo, IA the squad braved frigid conditions with air temperatures of 22 degrees and winds of over 20 mph combining to make it feel like two degrees. The College finished 31st in the elite field of 31, tallying 849 points. Defending national champion Stanford claimed the Championship with a dominating score of 24, outpacing runner-up Wisconsin's total of 174. Colorado's Dathan Ritzenhein won the individual title.
The team was hurt by the absence of its premier runner, three-time All-American Ed Moran (Dayton, NJ). Moran, who captured third place at the NCAA Southeast Regional and won the CAA Championship, was unable to compete due to an injury. Junior and Charlie Hurt (Charlottesville, VA) paced the squad's effort by running a 31:36.9 to take 186th place. A blanket covered the next four Tribe finishers as sophomore Jason Schoener (Grand Blanc, MI), junior Jeff Hedley (Virginia Beach, VA), sophomore Matt Keally (Virginia Beach, VA) and senior Patrick Comstock (Portsmouth, VA) all crossed the line within ten seconds of each other. Schoener led the quarter by racing to 209th by clocking a 31:58.3. Hedley followed two-tenths of a second behind in 210th with his pace of 31:58.5. Keally took 211th at a clip of 31:59.1 while Comstock placed 216th by running a 32:09.2. Senior Adam Otstot (Richmond, VA) ran to 245th with a 33.24.7 while freshman David Murphy (Warwick, RI) took 247th with a 33:52.8 in his first NCAA appearance.
The NCAA Championship ends the 2003 season for Tribe men's cross country, which saw the team dominate the CAA Championships for its fourth-straight, and 11th overall, conference title. Also highlighting first year head coach Alex Gibby's season were four all-region performances at the NCAA Southeast Regional that powered the squad to third place and helped earn an at-large bid to the NCAA Championship, its seventh consecutive qualification to the meet. The College also won the George Washington Invitational as Moran claimed the individual title at the meet.