2002 All-MileStat.com Boys Outdoor Track Team
Here is your All-MileStat.com boys team for the 2002 outdoor track season. A wide range of criteria was used to select each respective athlete such as season best, consistency, performance in big meets, etc. To give more athletes recognition, we decided to limit each athlete to only one selection each. Even with that rule, I still shake my head in dismay that I have to leave off a lot of deserving individuals off the team. But that shows that Virginia truly is one of the top track states in the nation with a great depth of talented athletes. Girls team to be selected soon.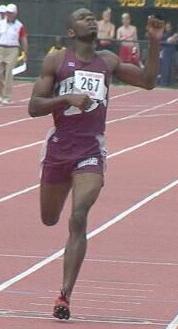 SPRINTER OF THE YEAR....QUENTIN BOWENS
The Heritage senior Bowens was unstoppable at the one-lapper all season, having not suffered a defeat to any other Virginian in the state. He was the 400m champion at such big in-state meets as the Southern Track Classic and the AAA State Meet and then faired very well against some of the nation's best in such national meets as the Mobile Meet of Champions in Alabama, Golden West Invitational in California, and adidas Outdoor Championships in North Carolina. Bowens boasted a seasonal best time of 47.24, which he ran at the Southern Track Classic.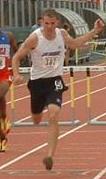 HURDLER OF THE YEAR...CRAIG GALLIMORE
Only a junior, expect even a bigger senior season for this Lake Braddock Bruin. Gallimore ran his best when it mattered at the state meet as he nearly captured a double win in the hurdles with a second place finish in the 110 meter hurdles and a first place finish in the 300 meter hurdles. Gallimore's best on the season were a 14.57 in the 110 meter hurdles (AAA State Meet) and a 38.23 in the 300 meter hurdles (Gar-Field Invitational).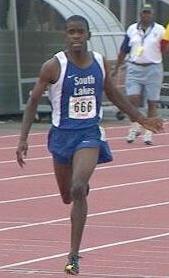 CO-DISTANCE RUNNERS OF THE YEAR...RICHARD SMITH & BOBBY LOCKHART
A very tough choice when choosing between two national champion runners, so why not choose them both? Both Smith and Lockhart gave the track fans of Virginia so much excitement their years of high school running and their senior seasons were no different.
Last year, fans would get up out of their seats to get a chance to watch Smith's old teammate, Alan Webb race. Smith was making fans do the same this year with his blazing speed and punishing kick. Smith was a silent killer on the track as it was familiar to see him zoom by the competition on the final lap or final straightaway. His victims includes stars such as Phil Gaeta, Matt Wolak, Alex Tatu, Steve Carlson, Bobby Curtis, and Paul Cross. He was the man to beat at the 800 meter distance and no one seemed to have an answer to stop him. He had major wins at the Southern Track Classic, AAA State Meet, and the icing on the cake, the adidas Outdoor Championships. There he won his second national title (won the 800 at indoor nationals) and ran the nation's fastest time of 1:49.04.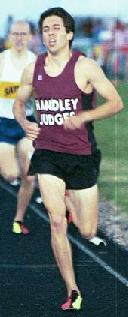 Lockhart started off his track season with an early defeat at the Arcadia Invitational in California in April, where a sick Lockhart faded and was outkicked by Chris Solinsky of Wisconsin. Lockhart later avenged that early loss, but he first had to stamp his reign of dominance in his homestate before he graduated off to the University of Wisconsin. There were a few doubters that Lockhart didn't have the speed anymore to be one of the nation's top milers or in fact the best miler in the state. Well Lockhart quickly hushed those doubters as he defeated a national caliber runner Brian Dalpiaz of New York along with a strong field in the mile at the Southern Track Classic where he clocked the nation's fastest time at that point, 4:08.25. Then he finished out his career in Group AA, having never lost a state meet race in either cross country, indoor, or outdoor track. Lockhart did this by winning the 1600 and 800 and anchoring the winning the 4x800 at the AAA State Meet to give him a total of 8 outdoor track state meet individual titles. His performance also helped his team to another state track title. After he had got done with business in Virginia, it was time for Lockhart to set his attention to the national scene, and getting revenge on Solinsky and others from his earlier defeat. In the two mile run at the adidas Outdoor Championships, Lockhart surprised the crowd, the field, Solinsky, and maybe even himself as he outkicked the rest of the field on the final lap with a 58 second split to pull away with a national title in 8:59.
JUMPER OF THE YEAR...KEITH MOFFATT
No other jumper in the state can compare to what this tall, lanky, awkward looking high jumper from Menchville High School can do. Moffatt found himself jumping by himself often in meets as many other high jumpers couldn't even clear the height that he started at. With that said, of course no one could even remotely come close to where he ended up clearing at as he saved his best for states. The two-time indoor national champion cleared at an astonishing height of 7-03.00, which broke the previous state record. It was also one of the nation's bests marks. Unfortunately, he bypassed the national meet, which was won under 7-03.00.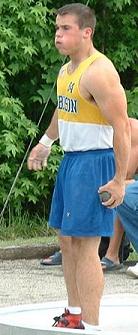 THROWER OF THE YEAR...STEVE HUNTZINGER
Like Gallimore, Huntzinger is a fellow Northern Region junior and yet still is the best in the state in his specialty. Huntzinger was undefeated in competition against fellow Virginians all season and with his great power, he was a double state champion in both the shot put and discus. His bests on the season were a monstrous a 60 feet in the shot put (Golden West Invitational) and 176'11" in the discus (Northern Region Meet). And when he couldn't find the competition to match his brute strength in the throws, he went elsewhere to find it and had solid showings at big national meets such as the Arcadia and Golden West Invitationals in California and the adidas Outdoor Championships in Raleigh.
BOYS FIRST TEAM
Boys 100m Dash: Michael Johnson (Heritage)
Boys 200m Dash: Charles Cox (Kempsville)
Boys 400m Dash: Quentin Bowens (Heritage)
Boys 800m Dash: Richard Smith (South Lakes)
Boys 1600m Run: Alex Tatu (Thomas Dale)
Boys 3200m Run: Bobby Lockhart (John Handley)
Boys 110m Hurdles: DeAndre White (Lakeland)
Boys 300m Hurdles: Craig Gallimore (Lake Braddock)
Boys 4x100m Relay: Lakeland
Boys 4x400m Relay: Deep Creek
Boys 4x800m Relay: South Lakes
Boys High Jump: Keith Moffatt (Menchville)
Boys Long Jump: Jamonte Manley (Oscar Smith)
Boys Triple Jump: Lawrence Waller (Tunstall)
Boys Pole Vault: David Sullivan (Centreville)
Boys Shot Put: Steve Huntzinger (James Robinson)
Boys Discus: Jim Tiller (L.C. Bird)

BOYS SECOND TEAM
Boys 100m Dash: Michael Lewis (Greensville)
Boys 200m Dash: Deandre Hyman (Deep Creek)
Boys 400m Dash: Derron Flood (Deep Creek)
Boys 800m Dash: Matt Wolak (Mills Godwin)
Boys 1600m Run: Phil Gaeta (Oakton)
Boys 3200m Run: Matt Keally (Ocean Lakes)
Boys 110m Hurdles: Esteban Guzman (Nansemond River)
Boys 300m Hurdles: Rashad Gardner (Oscar Smith)
Boys 4x100m Relay: Deep Creek
Boys 4x400m Relay: Hampton
Boys 4x800m Relay: Maggie Walker
Boys High Jump: Adam Linkenauger (Lord Botetourt)
Boys Long Jump: Brandon Via (Magna Vista)
Boys Triple Jump: Reynold Smith (Forest Park)
Boys Pole Vault: Daniel Garrett (Great Bridge)
Boys Shot Put: James Nixon (Great Bridge)
Boys Discus: William Collins (Manchester)

BOYS THIRD TEAM
Boys 100m Dash: Jarvis Hyman (Deep Creek)
Boys 200m Dash: Sherrod Lewis (Patick Henry-Ashland)
Boys 400m Dash: Marcus Satchell (Bethel)
Boys 800m Dash: Steve Carlson (Louisa)
Boys 1600m Run: Kippy Keino (Fork Union)
Boys 3200m Run: John Crews (Rockbridge)
Boys 110m Hurdles: Isi Azeke (Cox)
Boys 300m Hurdles: Christian Siegmund (Salem)
Boys 4x100m Relay: Heritage
Boys 4x400m Relay: South Lakes
Boys 4x800m Relay: Midlothian
Boys High Jump: Nathan Fristch (Woodberry Forest)
Boys Long Jump: Chris Walker (Norview)
Boys Triple Jump: Ryan McCoy (William Fleming)
Boys Pole Vault: Adam Wright (Turner Ashby)
Boys Shot Put: Gary Freeman (Deep Creek)
Boys Discus: Kris Barnes (Patrick Henry-Glade Spring)