Central Region Meet Summary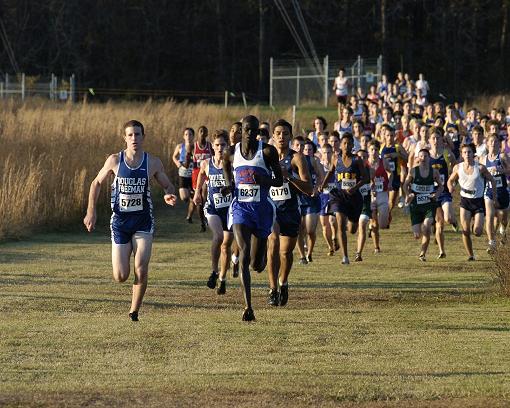 MECHANICSVILLE, VA
-- The final regional meet to be hosted leading up to next week's VHSL State Cross Country Meet was held at Pole Green Park as the best teams in the Richmond Metro area gathered together to compete at the Central Region Meet. J.R. Tucker's Michael Chapa and his Tigers squad re-asserted themselves as best in the state with regional title wins, while Christy Ward and the James River girls proved their legitimacy with first place finishes as well.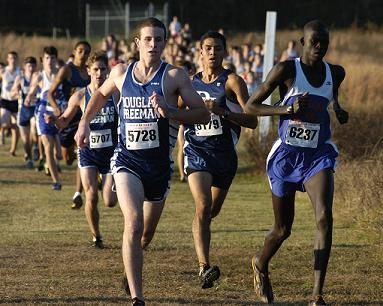 The Tucker boys, ranked #1 in the state and nationally ranked for much of the season, were dealt a setback at last weekend's Colonial District Meet. Running a man down with number three runner Thuom Mathaing injured, the Tigers finished second at their district meet behind Douglas Freeman. At this weekend's Central Region Meet, Mathaing returned to racing action as the Tigers hoped to defending their regional title from a year ago.
Michael Chapa, Tucker's ace runner, did his part for the team effort and then some. Chapa led the field through a brisk first mile of 4:47 and continued to keep up the punishing pace through two miles (9:47). When Chapa emerged from the woods loop shortly after two miles, he was alone and by a wide margin. The pace did not slacken as he pushed the final 1000+ meter loop around the field to clock in at a course record shattering time of 15:12. The previous record was held by Chapa at a time of 15:28. Chapa's 15:12 is the fastest time in the state by 16 seconds and has many saying that this Tucker runner has Foot Locker Nationals bound written all over him.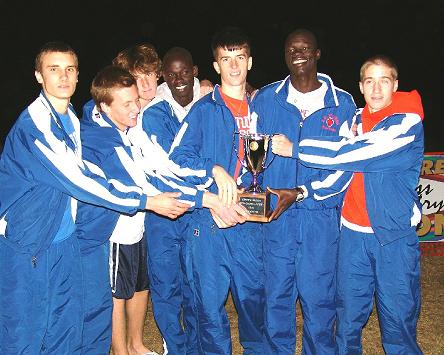 Finishing 40 seconds behind Chapa was teammate Mason McElroy with a time of 15:52 as he joined only a handful of runners to break 16 minutes on the Pole Green Park course. After a subpar performance last week, Tucker's Ben Rickey rallied back at the regional meet to earn All-Region honors with a tenth place finishing time of 16:47. Despite not racing at 100 percent, Thuom Mathaing ran a gutsy race to finish right behind Rickey in 11th place with a time of 16:48. However, causing concern for the Tigers should be the fact that Mathaing had to use his teammates as crutch after his race. Michael Peterson continues to gradually improve as the season goes along for Tucker as the team's fifth man. Peterson finished 31st overall in the race with a time of 17:25. With a much better showing than last weekend's district meet, the Tucker boys tallied a team total of 49 points to successfully defend their regional title from a year ago.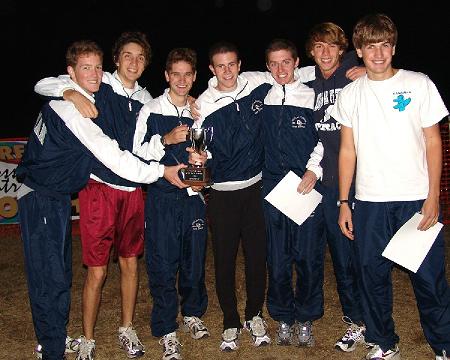 The Douglas Freeman boys gave a valiant effort to nearly knock off Tucker once again as they finished eight points shy of the Tigers with a 57 point team total. The Rebels were able to put their fifth man ahead of Tucker's fifth man, but were beaten at every position from one through four. The Freeman boys were led by strong individual runs by Richard Andrews and Cabell Rosanelli. Both runners hit personal best times as Andrews finished third at 16:00, while Rosanelli finished one place behind in fourth at 16:17. Freeman's remaining top five runners were well packed, but not far ahead enough to offset Tucker's strong top four. Stephen Cox (16th, 16:59), Andrew Pike (21st, 17:07), and David Newsome (22nd, 17:12) all dropped their times from the week prior at Pole Green, but that was not enough to defeat Tucker this time around.
The James River will be advancing to the state meet for the first time in several years as they finished third in the team standings behind Tucker and Freeman with 105 points. Rapids senior Cory Scott was the team's sole All-Region performer in ninth place with a time of 16:45. Marc Azzarello (18th, 17:04), Richard Spain (19th, 17:05), and Charles Schmitt (24th, 17:14) were all well packed behind Scott to help give James River the push they needed to qualify for the state meet.
Last year's AAA state champions Midlothian took the final state meet qualifying spot as the Trojans finished fourth with 114 points. A young and inexperienced squad with only two holdovers from last year's team, the Trojans had two All-Region performers in senior Kurt Witt (8th, 16:42) and Jonathan Mellis (13th, 16:49).
Individual qualifiers included Hermitage's Alex Bowman (5th, 16:31), Lee-Davis' Tyler Carter (6th, 16:34), Patrick Henry's Jeremy Falke (7th, 16:41), Mills Godwin's Buck Walton (12th, 16:48), Patrick Henry's Barry Davis (14th, 16:49), and Clover Hill's Mark Merritt (15th, 16:56).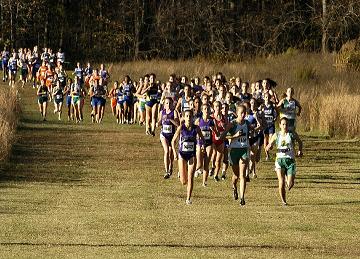 The James River girls have quietly established themselves as one of the best teams in the state while under the radar of many. After their dominating performance at the Central Region Meet, the Lady Rapids cannot hide the talent their team possesses anymore. The James River girls won by a substantial amount with their 35 point team total.
The Lady Rapids top finisher was individual race champion Christy Ward. Ward, who in years past has always run in the shadows of fellow teammates such as Kristin Coffield, Lindsay Traudt, and twin sister Rebecca, finally got her opportunity to enjoy the spotlight on Saturday. Ward went to the front of the field from 100 meters into the race and never looked back. Ward hammered through the mile mark in 5:52 and then clocked in at 12:02 for two miles. She continued to build on her lead in the final mile as she crossed the finish line in a course record breaking time of 18:59. Ward become the first runner to ever break 19 minutes on the Pole Green runner as she was nine seconds ahead of the previous record of 19:08.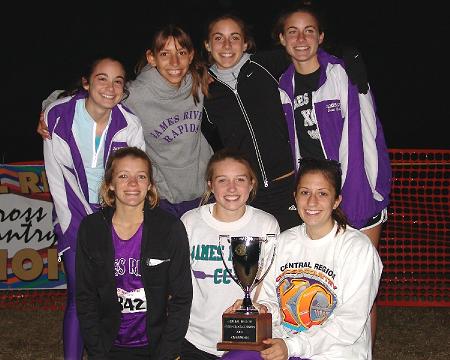 Behind Ward were teammates Emily Schroeder and Kristin Wolfe finishing second and third respectively with times of 19:09 and 19:20. Along with Christy Ward, Schroeder and Wolfe were pleasant surprises for James River coach Andy Pittard as Schroeder was a 400 meter track runner, while Wolfe was an unknown freshmen talent. Christy's twin sister, Rebecca, appears to continually to be working back into shape from mono as she earned All-Region honors with a 13th place finishing time of 20:03. Jenny Eisenberg (18th, 20:29) closed out James River's top five. Oakton will be heavily favored going into next weekend's Group AAA State Meet, but they must stay very aware of a James River squad that would like to win their second state title in three years.
Colonial District squads Maggie Walker (60 pts) and Douglas Freeman (77 pts) finished second and third respectively behind James River.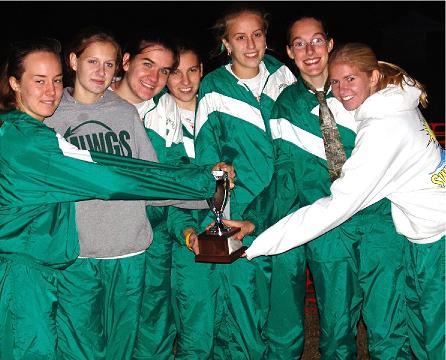 The Maggie Walker girls had a very strong front three in Samantha DeAlto (4th, 19:27), Ritchie Vaughan (5th, 19:31), and Emily Wauford (7th, 19:40). However, they lost considerable ground on James River in the fourth and fifth spots despite strong runs by Stella Askin (17th, 20:19) and Rachel Leary (30th, 21:11).
The Douglas Freeman girls were more tightly packed through five than James River and Maggie Walker, but their pack was not up far enough to contend with the two teams. Junior Christi Harsha was the Lady Rebels' top finisher in eighth place with a time of 19:51. Sophomore teammate Meredith Cox (12th, 20:00) joined Harsha on the All-Region squad. Freeman sophomore Sonja Lokensgard (16th, 20:13) just missed All-Region honors by less than a second, while Laura Wallace (21st, 20:43) and Meghan Machich (25th, 20:57) rounded out a top five under 21 minutes.
Despite having three of their varsity runners sitting out due to injury, the Midlothian girls were able to manage a fourth place (126 pts) finish to advance onto the state meet. Top runner and state title contender Amanda Patterson sat out for her second consecutive race with an injury and will miss a third race at next weekend's state meet. Varsity runners M.C. Miller and Jessica Oakley are also on the injury reserve. Despite the adversity of running nowhere near full strength, the Lady Trojans were able to put a formidable squad together. Senior Heather Mella (14th, 20:07) and freshmen Christine Selander (15th, 20:13) had All-Region performances and freshmen Erin Stehle (20th, 20:36) had a solid run as well.
Individual qualifiers for the state meet included Hermitage's Katie Hedley (6th, 19:32), Atlee's Rebecca McDowell (9th, 19:52), Armstrong's Tia Miles (10th, 19:55), and Deep Run's Erin Bragg (11th, 19:58).