Dewey runs US #1 3200, Morrison hits US #2 PV @ CNU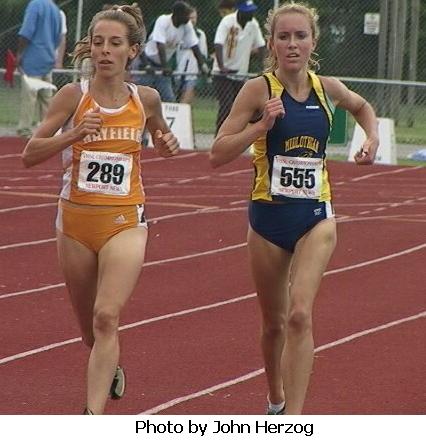 NEWPORT NEWS, VA
- Many of the top teams and individuals returned to racing action over the winter break to compete at the CNU Showcase in Newport News. The two day event held at Christopher Newport University's Freeman Center witnessed eight state leading performances and times being posted as the meet was filled with great action and competition. Katie Doswell and Queen Harrison continued their amazing indoor campaigns, while Melissa Dewey and Amanda Patterson renewed their great rivalry in the 3200 meter run as they ran the U.S. #1 and #2 times in the event. Great Bridge's Michael Morrison also made his way on the national leaderboard with a U.S. #2 clearance of 15-6 in the pole vault.
The girls' distance events were nothing but spectacular as three of the four events saw state leading performances, while in one event, a Freeman Center high school facility record and the nation's two fastest times were posted.
In Friday night's 4x800 meter relay, several girls' teams were aiming for early state qualifying meet times. Hayfield jumped out to an early led with lead off leg Melissa Dewey, but then Oakton and James Robinson took over for the second leg. Oakton pulled ahead in first in the third leg, but Midlothian's third leg Jessica Oakley closed the gap on Oakton with a 2:21 split. Oakton's Danielle Light took the baton several seconds ahead of Midlothian anchor Amanda Patterson and was able to hold off a valiant effort by Patterson to bring home the win in a time of 9:39.89. Patterson's Trojans finished second with a 9:41.62 clocking as both teams qualified for the Group AAA State Meet in March.
Saturday's girls' 1600 meter run was another exceptional race that included three of the stars from the previous night's 4x800 meter relay in Patterson, Dewey, and Light. However, the favorites would be spoiled by St. Catherine's junior Katie Doswell. With Doswell running with Patterson and Dewey at 800 meters, Doswell began to drop Dewey with Patterson and then pulled away from Patterson shortly thereafter to gap the strong field and hold onto win in a time of 5:03.05. Patterson (5:06.69) and Dewey (5:09.74) closed well to seize second and third place, while Light took fourth in 5:15.80.
Doswell continued her winning ways after the 1600 meter run with relatively short rest to win the 1000 meter run in a new state best time of 2:59.17. Doswell became the first runner to dip under three minutes this season in the event. Doswell also took runner-up honors in the pole vault with a 10 foot clearance. Western Branch's Kenya Jones took second in the 1000 meter race with a state qualifying time of 3:02.46. Jones' teammate Aurora Scott, the freshmen star who qualified for Foot Locker Nationals, was absent from the meet.
Patterson and Dewey doubled back later in the meet for their third race of the meet and second of the day in the 3200 meter run. The two runners have been close rivals over the past year in the event and this year's race at CNU did nothing but make the rivalry even more heated and closely contested. Dewey had established herself as the dominant runner in the state during the cross country as she was a Foot Locker All-American and state champion, while Patterson's season was marred by injury. Patterson went into the CNU meet hoping she could show herself capable of giving Dewey a run for her money. The two All-American caliber runners went neck and neck throughout the race. They went through the first mile though in a conservative pace of just under 5:30 as both runners have posted times well under the 11 minute pace they were setting through the first half of the race. However, the second mile was definitely ran at a much quicker clip than the previous one as the two runners made it a foot race to the end. Patterson pulled up beside Dewey with 300 meters to go, but Dewey was then able to muster just enough in the remaining part of the race to come away with the win in a state leading time of 10:42.81 as she closed in her final 400 meters in 69 seconds. Patterson finished right with her in a 70 second last 400 with a final time of 10:44.09. The barn burner led to Dewey posting the fastest 3200 meter time in the nation thus far this season, while Patterson is right behind her at number two in the event.
Manchester senior Kelly Keener still has what it takes to be one of the better 500 meter runners in the state, despite showing the range as of late to be competitive at 800 and 1000 meters. Keener won the 500 meter event at CNU in a time of 1:19.39. James River freshmen distance ace Kristen Wolfe finished a very respectable second in 1:20.05. The James River girls' 4x800 meter relay team should be a squad to look out for in outdoors when Christy Ward and Emily Schroeder return.
Doswell was not the lone double event winner on the girls' side as Hermitage's Queen Harrison had another stellar meet. Harrison posted the second fastest time by any Virginian in the 300 meter dash on an unbanked track with her winning time of 40.65. Bethel's Francena McCorory had posted a 40.53 on the CNU track in December prior to running the second fastest time in U.S. high school history with her 37.60 at the fast banked track found at the New York Armory. While Harrison's 300 meter time was impressive, her mark in the triple jump was the highlight of the meet for the Hermitage junior. Harrison leaped to a winning mark of 39-02.25, which places currently #1 in the state this season. The mark is also a personal best for Harrison in indoors as she has a 39-10.25 personal best for outdoors.
Traditionally not known for producing the state's top sprinters in the state, the Northern Region has a star this year that can break up the powerhouse that is the Eastern Region in Hayfield senior Murielle Ahoure posted a 7.17 in the 55 meter dash prelims, while winning the finals in 7.21. Ahoure's 7.17 clocking is second only in the state to McCorory at Bethel.
Finishing second to Ahoure in the 55 meter dash (7.35) and Harrison in the 300 meter dash (41.46) was Heritage's Octavia James. However, those events are only considered prep work to her specialty event, the 55 meter hurdles, where James has the state's best time at 8.22. At CNU, James won her event once again in a time of 8.41. The Gregory twins of Jamestown, Tierra (2nd, 8.57) and Kierra (4th, 8.97, 8.76 in prelims) both ran Group AA state qualifying performances as they are currently the two leading seeds in the event for that classification.
The girls' 4x200 meter relay saw a battle waged between two teams that will definitely meet again at the Central Region Meet. Queen Harrison's Hermitage Panthers (1st, 1:44.81) got the victory at CNU over Kelly Keener's Manchester Lanchers (2nd, 1:46.76) as both relay teams qualified for the Group AAA State Meet.
Brittanie Williams appears to be adjusting well to her new team at Armstrong as cleared a height of 5-6 to win the high jump competition. Williams qualified for the state meet in the high jump and the triple jump, where she finished second to Harrison in a mark of 37-10.
Someone has to step up in the girls' pole vault in Group AAA or the state title is destined to go to Mills Godwin sophomore Anne Marie Gordon as she cleared a height of 11-1 at CNU, which is over a foot higher than her closest Group AAA competitor thus far this season. Gordon was the state runner-up last year as a freshmen at 10-6.
Buffalo Gap senior Angela Jenkins showed her Group AAA competitors at CNU how to properly long jump. Jenkins, competing at Group A Buffalo Gap, which does not have an official indoor season with an indoor state championship, won the long jump competition over a field of Group AAA jumpers in an impressive state leading mark of 18-7. Jenkins is currently a half foot better than any long jump mark put forth so far this season in the state.
Deep Creek's Jessica Wade was the Lady Hornets' lone event winner at CNU as she qualified for the state meet with a personal best indoors throw of 38-2.
In the girls' team scoring, the Hermitage girls were the meet champions with 48 points as Harrison's wins in the 300 meter dash and triple jump were key as well as the team's victory in the 4x200 meter relay. Hayfield finished a close second with 45 points as Melissa Dewey and Murielle Ahoure's individual victories were very helpful to the final team scoring.
The performance of the meet found on the boys' side was Great Bridge's Michael Morrison posting the nation's second best clearance so far this season in the pole vault. The Great Bridge junior hit a height of 15-6 to set a new high school facility record at the Freeman Center. The clearance was also a personal best height indoors for Morrison. Morrison will look to be in the driver seat for this year's Group AAA State Meet competition, while also hoping to improve upon his sixth place All-American finish at the Nike Indoor Classic.
The Hayfield boys won the team title at CNU convincingly with their 61 point team total. Chris Richardson was the team's lone individual event winner as he won the 500 meter dash in a time of 1:07.90. Travis Swaggard picked up valuable points for the team in the sprints with a third place finish in the 55 meter dash (6.69) and runner-up placing in the 300 meter dash (36.72). Last year's 800 meter outdoor state champion, Brian Fussell of Hayfield qualified for the state meet competition with a runner-up finish in the 1000 meter run (2:36.17), while teammate Jeff Miller finished one place behind in a time of 2:37.52. Fussell and Miller joined up with Richardson to earn a second place finish in the 4x800 meter relay on Friday night (8:20.90). Fussell and Richardson closed out the meet with Swaggard on the 4x400 meter relay as Hayfield won the event in a state qualifying time of 3:28.53.
Western Branch finished second in the boys' team standings (41 pts) with three event winners in Devin Fentress, Adam Hutton, and Courtland Marinner. Fentress won the 300 meter dash in a time of 36.37, while Hutton won the 3200 meter run in a state qualifying time of 9:34.80. Fentress currently has the third fastest time in the state in the event, while Hutton's time was a personal best for 3200 meters both indoors and outdoors. Marriner won the long jump competition in a leap of 21-4.50.
Mark Hussa has a been a pleasant surprise to emerge as the state's top 1000 meter runner thus far this season. The James Robinson junior posted the state's fastest time to date in the 1000 meter event with a winning time of 2:35.47 as he defeated last year's 800 meter outdoor state champion Brian Fussell in the process.
Douglas Freeman senior Richard Andrews, cross country state runner-up in the fall to J.R. Tucker's Michael Chapa, won the 1600 meter run at CNU in an indoor personal best time of 4:27.84 as he won decisively over second place finisher Mitch Cooper of Kellam (4:32.54). Cooper (3rd, 9:40.95) along with Ocean Lakes senior Drew Midland (2nd, 9:39.32) qualified for the Group AAA State Meet with strong performances in the 3200 meter run later in the meet.
Fellow Douglas Freeman teammate BJ Revis won the 55 meter hurdles in a state meet qualifying performance of 7.72. Second place finisher in the event, Huguenot's Kevin Cousins (7.92), also qualified for the state meet and was a member of the winning 4x200 meter relay team from Huguenot in a time of 1:35.37.
The Midlothian boys' 4x800 dynasty seems to still have some hope for 2005. After having three consecutive years of having sub eight 4x800 meter relay teams, 2005 appeared to be the down year for the team. However, the Trojans showed some life at CNU by winning the relay event in a time of 8:17.79 as they currently have the second fastest time in the state to date.
The boys' shot put was an excellent competition with five throwers tossing over 50 feet and earning state qualifying marks. Annandale's Julio Villatoro came out the winner with a toss of 53-06.75, while Deep Creek's Thomas McCutheon (53-05.75), Denbigh's Jaymes Brooks (3rd, 53-00.50), Hermitage's Marquis Davis (4th, 51-08.75), and Deep Creek's Vernon Eason (5th, 50-1) all finished respectively behind Villatoro.