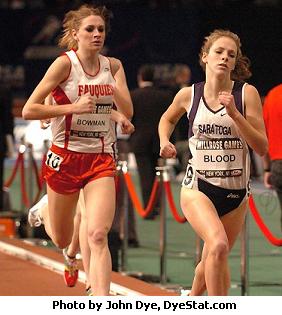 NEW YORK, NY
-- Virginia\'s top middle distance talent in senior Sarah Bowman proved any doubters that she still can run with the best in the nation as she finished second in the prestigous and elite Millrose Games high school girls\' mile race. Bowman, a national indoors champion in the event as a sophomore and national outdoors champion at 800 meters last spring, seems to have bounced back from a drama filled fall with subpar performances and her eventual leaving of the Fauquier High School cross country team. Bowman led the field through the quarter and half with New York\'s Nicole Blood in 70.3 and 2:25. New York\'s Aislinn Ryan, the 2004 Foot Locker Cross Country National champion, took it to the field in the last half of the race to come away with the win in 4:52.29. Bowman passed Blood for second to finish in a time of 4:55.41 as Blood faded to fourth in a time of 4:59.11. Bowman\'s time is the fastest time in the state to date by nearly six seconds. The event was held once again at the Madison Square Garden\'s 160 meter banked track surface.
Get all of MileSplit's hottest content delivered to your email inbox!
Don't miss any breaking news, rankings, feature stories, event updates, or more. Sign up for the MileSplit mailing list today!