RICHMOND, VA
-- There is something magical in the air at every Southern Track Classic when night falls and the lights are on. The tensity and nerves conveyed by the athletes combined with the awe and excitement shown in the faces of the fans, parents, and coaches is something truly unique to this meet. A meet of this caliber was lacking last spring when the Classic took a year of absence and the impact of this loss was greatly felt. However, Virginia's finest in high school track and field competition has returned !
Girls 4x800 Meter Relay
(STC MEET RECORD: 9:22.34, 5/10/02, KELLAM HS, KELLAM HS)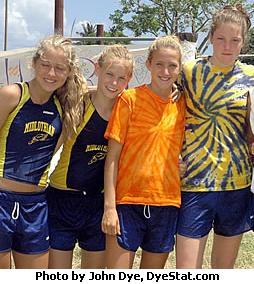 The first running event of the meet should be an interesting one to see how it plays out. The Midlothian girls are the top seed as they have the second fastest time in the state with a 9:24.94 clocking at Penn Relays. However, they ran that time with 4:54 1600 and 10:34 3200 meter runner Amanda Patterson. Patterson has left the team and left the Lady Trojans without one of their top distance runners. However, it is interesting to note that Patterson was the slowest leg on the Midlothian 4x800 meter relay team at the Group AAA State Indoor Meet where Midlothian surprised the favored Northern Region squads to win in a time of 9:24.33. Midlothian has three proven strong legs in M.C. Miller (2:18 800, 3:00 1000), Jessica Oakley (2:21 800, 3:03 1000), and Christine Sealander (2:23 800). Patterson's replacement will be 11:38 3200 meter runner in freshmen Erin Stehle. If Stehle can run a solid enough leg, the Midlothian's other three legs may be able to carry them to victory still. Other squads to pay attention especially if they load down with their strong anchors include Bethel and Western Branch with stars like Shakirra Pinnock (2:16 800 PR) and Aurora Scott (5:08 1600, 10:59 3200). Though both runners may be saving themselves for later individual events.
Boys 4x800 Meter Relay
(STC MEET RECORD: 7:52.53, 5/10/02, WILLINGBORO HS, WILLINGBORO HS)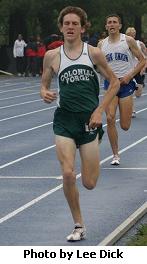 The favorites in this event will come from out of the state from Germanstown Academy of Philadelphia, Pennsylvania. The Pennsylvania boys had a sub 8 clocking indoors of 7:58 to place second at the Nike Indoor Nationals and will look to drop their time further under eight at the Fred Hardy Track. While some of the state's top 4x800 meter relay squads will be missing at STC (mainly due to relay members focusing on their own individual events) including 7:58 squad J.R. Tucker and 8:01 squad E.C. Glass, the Germanstown Academy should get a push from one or two darkhorses relays. One in particular to place close attention is the Colonial Forge. While only posting a modest 8:08 best thus far this season, the Colonial Forge boys will be loaded down for a fast time on Friday night. The Colonial boys are inserting onto the relay their top 400 meter runner in Andrew Bennett (50.14 400 PR) in hopes of giving them four solid legs. Tony Nowotarski (1:59.94 800 PR) Arno Dieckman (1:58.44 800 PR), and Dan Leyh (1:57.84 800 PR) already give the Eagles three established sub two minute legs. If any Virginian squad entered Friday night can take down Germanstown it will be Colonial Forge.
Girls 100 Meter High Hurdles
(STC MEET RECORD: 14.26, 5/10/02, LAUREN TAYLOR, WESTERN BRANCH HS)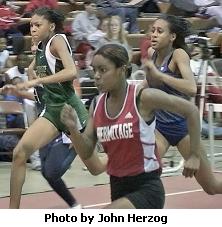 An out of state top seed and the state's four fastest hurdlers makes up the field for the Southern Track Classic girls' 100 meter high hurdles race. Rokesha Williams of Towson Catholic (MD) has the fastest time among competitors with a 14.33 season best, which she happened to clock on Virginia soil at the West Potomac hosted Scuderi Team Challenge. Hot on her feet will be four Virginians with the four fastest state times thus far this spring. Leading the way is Hermitage senior Jasmine Major, who is the current state leader with a 14.55 clocking last month at the Gus Lacy Track Classic. Brooke Point senior Chadnee Green is the only other Virginian to have gone under 15 seconds with Major this season. Green clocked her time at the Scuderi Team Challenge in April where she was defeated by the Marylander Williams. Both Huguenot sophomore Wynetta Kirby and Heritage (Newport News) senior Octavia James have clocked season best times of 15.02 this spring and will be looking to dip under 15 seconds on Friday night.
Boys 110 Meter High Hurdles
(STC MEET RECORD: 14.09, 5/7/99, DWIGHT NORRIS, KING GEORGE HS)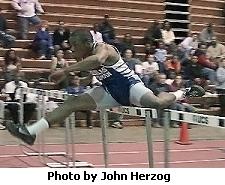 This boys hurdle event appears to be a three way contest between three proven sub 15 second hurdlers. Great Bridge junior Michael Morrison is the current state leader as he posted a time of 14.49 at the University of Tennessee last month. He will be competing in the pole vault earlier in the evening and is favored in that event as well. Douglas Freeman senior BJ Revis has ran faster, but his personal best of 14.46 was ran last spring as a junior. The best time posted by Revis this spring thus far is 14.56. The short hurdle events could be swept by out-of-staters with Towson Catholic's Williams favored in the girls 100 and DeMatha Catholic (MD) junior Geoffrey Daley being a contender in the boys' event with a 14.59 season best.
Girls 100 Meter Dashy
(STC MEET RECORD: 11.96, 5/7/99, ARA TOWNES, BETHEL HS)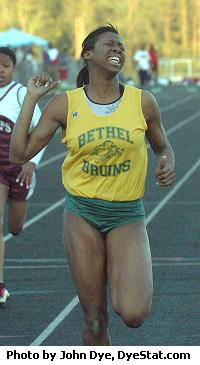 The girls' 100 meter dash will be Francena McCorory's to win. With her 11.87 season best, she is the only athlete entered who has dipped under 12 seconds this season and with 100 meter state leader Kharya Brown of Brooke Point only competing in the 200 meter dash that matchup will have to wait till the state meet in June. The Bethel junior is a two-time Group AAA state champion event and McCorory will be going for her third consecutive title later this spring. McCorory's closest competitors will be Hayfield's Murielle Ahoure (12.19 season best) and Brunswick Senior's Patrice Potts (12.21 season best).
Boys 100 Meter Dash
(STC MEET RECORD: 10.53, 5/7/99, CASEY COMBEST, OWENSBORO HS, KY)
Like Great Bridge's Michael Morrison in the pole vault and 110 meter hurdles, Thomas Dale senior Dennis Boone has the opportunity to get one win each in the field events and on the track as he is the top seed in the long jump and 100 meter dash. Boone has a season best of 10.90 which he posted at the Taco Bell Classic in South Carolina last month.
Girls Mile Run
(STC MEET RECORD: 4:46.78 5/9/03 SARAH BOWMAN, FAUQUIER HS)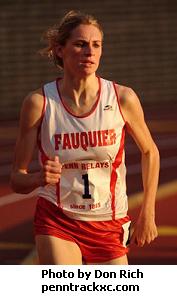 Probably the first running event that will garner that special kind of feeling in the air that this is a national caliber meet is when Fauquier senior Sarah Bowman toes the line in the girls' mile. Meet management will be setting up timing just for Bowman at 1500 meters because you never know with this middle distance phenom is on the verge of breaking a record. A two-time national champion at the distance, the Virginian native will be battling the clock on this one and taking full use of a large supportive and cheering crowd to push herself to a fast time. Bowman has the meet record of 4:46.78, which she set two years ago as a sophomore. She already has a time of 4:44.09 for 1600 meters this season which is not only a state best, but national best this season. The battle for second place looks to be anyone's guess. Colonial Forge freshmen Kaylan Comer has the second fastest time coming in at 5:05.49 as ran superb in her first year of track. James River senior and William & Mary bound Rebecca Ward has ran 5:10 this season in her only invitational appearance. With a 5:06 personal best, running in the elite Southern Track Classic will definitely give her a little bit more competition than she has been seeing in dual meets all spring. A questionable entrant in the mile race is Foot Locker finalist Aurora Scott of Western Branch (5:08 season best). The freshmen star may be scratching out of the event so she can focus on her stronger event in the two mile run against a more even opponent in Northside's Catherine White than the clearly superior miler in Bowman. However, a double is not out of the question.
Boys Mile Run
(STC MEET RECORD: 4:08.34, 5/9/03, BOBBY CURTIS, ST.XAVIER HS, KY)
The boys' mile run should have an exciting finish to it with no proven "superstar" runner like in past years like Bobby Lockhart, Brian Dalpiaz, Bobby Curtis, Alex Tatu, and Kippy Keino, but a lot of solid runners who will be in contention for the win. The field includes J.R. Tucker senior Michael Chapa and E.C. Glass junior Patterson Wilhelm. The two runners recently posted solid times at the Penn Relays mile as Chapa finished fourth with a time of 4:15.47 and Wilhelm finished with a time of 4:18.05. However, Chapa is also entered in the two mile run and may or may not be scratching from one of the two events. The X-factor in the race will be out-of-stater Steven Duplinsky of Georgetown Prep (MD). Duplinsky has ran some solid times for 3200 meters this spring, including a 9:19 3200 to win the Taco Bell Classic, but has yet to show his full potential.
Girls 4x100 Meter Relay
(STC MEET RECORD: 47.01, 5/7/99, BETHEL HS)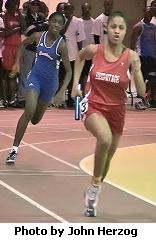 Depending on whether or not teams load up their relays, the girls' 4x100 meter relay event could be the most exciting of the all night's relay races. The clear favorite has to be the Bethel girls with Francena McCorory on their squad. At Penn Relays, the Bethel girls finished fourth in the Championship of America 4x100 finals as they were the second fastest U.S. team. Senior Shakirra Pinnock (12.70 100, 25.41 200) and sophomores Crystal Carrington (12.48 100, 26.39 200) and Essynce Roberts (12.47 100, 25.33 200) will also make up the Bethel relay. The local crowd will be cheering on the Richmond area relays in Hermitage and Manchester. The Hermitage girls also had a great weekend at Penn Relays as they qualified for the Championship of America finals to finish sixth with a season best time of 47.05. Queen Harrison (24.67 200), Jasmine Major (12.38 100), Tanique Carter (12.30 100, 25.62 200), and Gevonda Winston (7.58 55, 43.25 300) make up for a solid four legs for the Lady Panthers. The Manchester girls also have to be looked upon as an outside threat with a season best time of 48 flat. The Lady Lancers' relay consists of Shaunte Cotton (7.65 55, 12.94 100), Carmenta Mitchell (12.26 100, 25.13 200), Alaina Hite (7.57 55, 43.26 300), and Kelly Keener (12.46 100, 25.65 200).
Boys 4x100 Meter Relay
(STC MEET RECORD: 41.34, 5/7/99, DEMATHA CATH. HS, MD)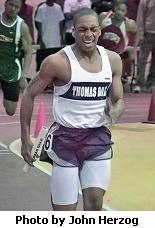 If Dennis Boone has a good enough day, he could finish the night here with three first place finishes as the Thomas Dale boys have the fastest F.A.T. time in the state of 42.17, which they posted at the Taco Bell Classic in April. On the relay team with Boone is his younger brother Richard, who boasts times of 11.52 in the 100 and 22.27 in the 200. Dematha Catholic should be a strong favorite as well as the Maryland squad always has strong relays and this group is no different with a 42.60 season best. Keep an eye out on Western Branch as well as they posted 41.8 hand held time in a district meet.
Girls 400 Meter Run
(STC MEET RECORD: 54.75, 5/9/03, FARAIGN GILES, TALLWOOD HS)
The girls' 400 meter dash should be a wire to wire race with the winner being decided possibly by a leaning finish with a handful of strong quarter horses. Crystal Roscoe comes in with the fast time as the Oscar Smith junior posted a time of 56.42 at the Dogwood Track Classic. Potomac Senior's Fallon Hutcherson also has made a strong jump up to the one lapper from her traditional events of the 100 and 200 meter dashes as she has posted a time of 56.74 this spring. Bethel senior Shakirra Pinnock should be considered as a strong contender to win as she ran a time of 56.25 last spring as a junior. Manchester senior and Radford University bound Kelly Keener also ran a sub 57 clocking last spring (56.92).
Boys 400 Meter Run
(STC MEET RECORD: 47.24, 5/10/02, QUENTIN BOWEN, HERITAGE HS)
No Lashawn Merritt in this field (and it is a shame that Merritt never ran in a STC), but bragging rights came come out of this field assembled to who the best 400 meter runner is in the state currently. Hayfield junior Chris Richardson has the fastest time in the state coming in after winning the T.C. Williams Invite 400 last weekend in a time of 48.39. Western Branch senior Devin Fentress is not too far behind him after running a time of 48.42 at last weekend's Landstown Invitational. Another athlete who will be in the mix is DeMatha Catholic's Kai Roper (48.60 seed time), who is an important part of the Maryland relay team that finished third in the Penn Relays Championship of America 4x400 finals and finished second (48.64) to Richardson at T.C. Williams last Saturday. The 400 at STC should be a three way battle between two of Virginia's best and one of Maryland's best.
Girls 300 Meter Low Hurdles
(STC MEET RECORD: 43.54 5/10/02 LAUREN TAYLOR, WESTERN BRANCH HS)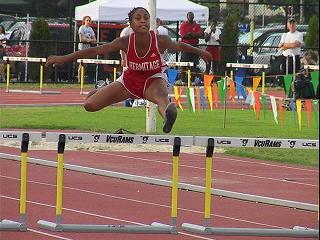 The 800 meter run features four athletes that have a realistic shot at winning. State leader Carlton Phipps of E.C. Glass is coming off a strong performance last weekend at VMI with a 1:54.38 clocking. Phipps recently made the conversion from being a quarter horse and has found instant success. He will get his greatest test at the new distance with three proven 800 meter runners in the field with J.R. Tucker's Thuom Mathaing (1:55.20 season best), Herndon's Abreham Daganchew (1:56.38 season best), and Hayfield's Brian Fussell (1:56.57). Fussell is the defending Group AAA state champion and ran 1:52 last spring as a junior. Mathaing has split 1:53 on relays and Daganchez has ran simply some incredible times for only being a sophomore.
Girls 200 Meter Dash
(STC MEET RECORD: 24.61, 5/7/99, ARA TOWNES, BETHEL HS)
Ara Townes' meet record of 24.61 should be in serious jeopardy with two amazing athletes in Bethel junior Francena McCorory and Brooke Point senior Kharya Brown. McCorory is the defending Group AAA state champion and currently holds the state's fastest time at 23.87. Brown has a season best of 24.19 and will be fresh for the event, unlike McCorory who will be competing in the 100 meter dash and possibly the 4x100 meter relay earlier. However, McCorory must be considered the favorite regardless of the 200 meter dash being at the tail end of a possible triple when considering she posted her state best 23.87 in a 100-200 double win at the Mobile Meet of Champions in Alabama this April.
Boys 200 Meter Dash
(STC MEET RECORD: 21.44, 5/11/01, JEROME MATHIS, PETERSBURG HS)
With state leader Devin Fentress (21.39) skipping this event to focus on the 400 meter dash at Southern Track Classic, the 200 meter dash is left open for the taking in a field of sprinters around the mid 22's. DeMatha Catholic's (MD) Dante Buckner is entered at 22.11, while Appomattox County junior Rashad Kelso has the fastest time this season among the Virginians entered at 22.26.
Girls Two Mile Run
(STC MEET RECORD: 10:32.84, 5/10/02, LAURA STANLEY, CAROLINA DAY)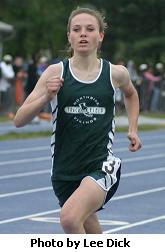 The eight lap event will pit against the future of high school girls' distance running in the state of Virginia with Northside sophomore Catherine White and Western Branch freshmen Aurora Scott. The Group AA state cross country champion this past fall, White has improved even further this track season with several sub 11 3200 meter clockings including a recent state best 10:51.92 at VMI last weekend. Meanwhile, Scott was a Foot Locker Finalist this fall, but sat out the winter during indoor track. She has slowly gone under the radar this spring, but also has a 10:59 3200 to her credit this season. There is no doubt when these two face off, it will be a foot race that will lead to both dipping well under 11 minutes.
Boys Two Mile Run
(STC MEET RECORD: 8:57.16, 5/11/01, BOBBY LOCKHART, HANDLEY HS)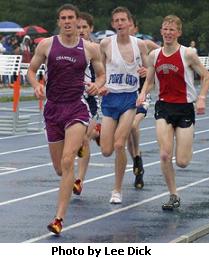 Michael Chapa of J.R. Tucker is the top entry in this event as he has a personal best of 9:11.92 for 3200 meters. However, it has still not been confirmed whether or not he will be competing in the mile or two mile run on Friday night as he is entered in both events. The next favored entrant is Chantilly junior Brad Siragusa who has a personal best of 9:21.46. Even with a fresh Chapa entered, Siragusa has a strong shot at winning the race as he is coming off a 9:22 victory in the 3200 at Dogwood two weeks ago. There is no question racing fresh that these two athletes will be the odds-on favorite, but otherwise, several other distance aces have a shot. Defending Group AA state champion Pat Eggleston has a season best time of 9:29.87, while Ocean Lakes senior Drew Midland (9:22 PR) should never be counted out after his surprise state title win at the Group AAA State Indoor Meet this past March. Another runner to be attention to is J.R. Tucker senior Mason McElroy. McElroy earned All-American honors indoors by placing sixth at Nike Indoor Nationals with a time of 9:19 for a full two miles and in the process beat teammate Michael Chapa.
Girls 4x400 Meter Relay
(STC MEET RECORD: 3:50.18, 5/10/02, WILLINGBORO HS, WILLINGBORO HS)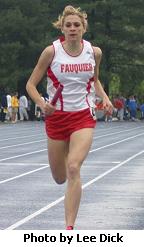 If Coach Eddie Williams decides to throw Francena McCorory on the 4x400 meter relay, it will be really hard for any team to challenge Bethel who posted a state best clocking of 3:47 at Penn Relays. However, McCorory can only compete in three running events, but a choice of four to decide from with the 100 and 200 meter dashes to go along with the 4x100 and 4x400 meter relays. McCorory split a 53.6 on that 3:47 team at Penn and there will be no female athlete on the track Friday night that can outrun her. However, the Fauquier girls are also entered in the event and happen to have the second fastest time in the state with a 3:56.94 clocking. It would be hard to think of any better close to the meet to have anchor legs McCorory and Sarah Bowman (55 second quarter speed) trying to outrun one another. Another squad that could be in the running depending on how loaded and tired legs affect the other favorites is Woodbridge Senior (3:58.03) who have dipped under four minutes the spring.
Boys 4x400 Meter Relay
(STC MEET RECORD: 3:13.70, 5/12/00, HERITAGE HS)
DeMatha Catholic might not have a relay team of Jamaicans to try and chase down like they did at Penn Relays, but they'll have plenty of Virginia teams clipping at their heels. DeMatha is the clear favorite as they come in with a season best time of 3:12.40, which puts them 12 seconds ahead of their nearest competition on Friday. The next best Virginian relay is Hayfield with a 3:24.43 season best. Potomac Senior (3:24.51), Matoaca (3:25.28), and Huguenot (3:25.64) have the next best times among the entries. DeMatha may need the crowd's support like Bowman will need earlier in the night to propel them to a fast time.