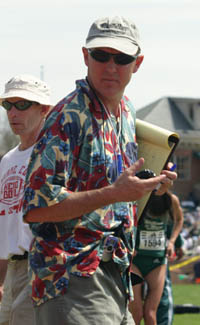 Van Rossum Resigns after 19 Seasons at Helm
WILLIAMSBURG, VA
- William and Mary's Athletics Director Terry Driscoll announced the resignation due to personal reasons of head women's track and field and cross country coach Pat Van Rossum this afternoon, effective immediately. The department will launch a national search to identify his replacement and has named former distance standout Kathy Newberry as the interim head coach.
In 19 years at the helm, Van Rossum guided the Tribe to 12 Colonial Athletic Association titles in cross country and five in track and field, including the last four. Honored 14 times as the CAA Coach of the Year, Van Rossum guided his cross country team to five top-25 appearances at the NCAA Championship and his 2003 squad set a record score (18) at the CAA Championship. During the 2004 track and field campaign, his athletes earned six individual CAA crowns, 16 all-conference honors and 14 All-East honors. He led five athletes to a combined 16 All-America honors during his tenure.
Newberry assumes the role of interim head coach after serving as a volunteer assistant coach to the Tribe's men cross country and track and field teams the past two seasons. Still an active competitor at the national level, competing regularly both on the track and in road races, Newberry qualified for the 2004 Olympic Trials finals in both the 5,000m and 10,000m, finishing 13th and 14th, respectively. She also ended 2004 ranked 10th nationally in the 10,000m. A qualifier for the U. S. Cross Country National Team, Newberry finished 25th at the 2004 World Cross Country Championships as the second-highest American in the 8,000m race. In 2003 she was ranked 17th in the nation in the 5,000m and placed 11th in that distance at the 2003 USATF Championships. She also raced to third in the 2003 USATF Fall Cross Country Championships.
An ace for the Tribe from 1996 to 2000, Newberry claimed two CAA titles (3,000m and 5,000m) and earned multiple All-East designations. She was a member of the 1998 Tribe cross country squad which finished a best-ever 10th at the NCAA Championship and is still represented in the Tribe record book with the College\'s fourth-fastest 1,500m time, (4:28.37), the fifth-fastest 3,000m time (9:38.13) and the sixth-fastest 5,000m time (16:49.29).