Combined Girls Results from All Races (AAA, AA, A)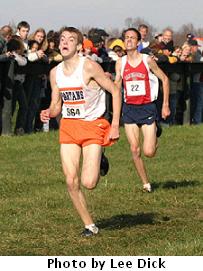 AAA Boys Race - The AAA boys' race saw one of the most competitive and tightly contested individual races in recent memory. A pack of nearly a dozen runners were leading the race well into the third mile. On the final stretch, Albemarle senior Hari Mix made a bold move for the win with less than 600 meters to go, but West Springfield senior Steve Tobin timed his kick perfectly to pass by Mix and take the win in 15:46, one second ahead of Mix at 15:47. A shocking win to the say the least as Tobin was not considered to be one of the favorites to win coming into Saturday's race. Woodside junior Derrick Robbins (3rd, 15:52), J.R. Tucker junior Michael Chapa (11th, 15:56), Thomas Jefferson senior Christo Landry (5th, 15:58), and Westfield senior David Groff (6th, 15:59) all dipped under 16 minutes as well on the Great Meadows course with Tobin and Mix. The Midlothian boys put forth a remarkable turnaround from their third place finish at the Central Region Meet by taking the team title and winning decisively with their 105 point total. The Trojans were led to the podium for the fifth time in as many years by the all-state performances by Billy Berlin (11th, 16:13) and Ryan Witt (14th, 16:18). Defending champions Thomas Jefferson beat out Oakton for runner-up honors on the sixth man tie-breaker as both teams tallied a score of 124 points. Westfield just missed out on a top three podium finish with 127 points.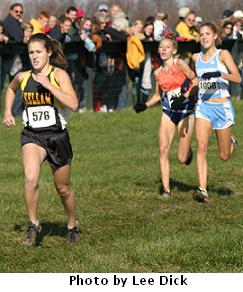 AAA Girls Race -- The girls' race in AAA saw a slightly smaller lead pack late in the race, which consisted of pre-race favorites Amanda Patterson of Midlothian and Beth Fahey of Forest Park. However, it would not be either Patterson or Fahey's day to shine as underdogs Natalie Sherbak of Kellam, Katherine Read of Yorktown, and Melissa Dewey of Hayfield would be the ones that would rise to occassion on this November day. The group of five was packed up well together through two miles, but would drop to four as Patterson fell off pace as the pack hit the double hump hill in the third mile. Dewey then made a move to take the lead for good with a little more than a half mile remaining as Sherbak and Read gave chase with Fahey beginning to fade. As they entered into the gate with 600 to go, Sherbak had taken the lead from Dewey and was not willing to give up the lead from then on out as she won with a time of 18:37. Dewey and Read fought it out for runner-up honors with Read (18:38.23) getting the best of Dewey (18:38.56) in the end. Fahey's Forest Park squad gave the favored Herndon girls' team all they could possibly handle in the race for the team crown as Herndon (106 pts) had to sweat out a two point victory over the Lady Bruins of Forest Park (108 points). The Lady Hornets were paced by All-State finishes by Kristin Hart (9th, 19:15) and Heather Fisher (13th, 19:27). Fahey (5th, 18:54) and sophomore Stefanie Slekis (8th, 19:11) led Forest Park to their best state meet finish in school history. Like the Midlothian boys, the Midlothian girls also had a major turnaround from their regional meet where they barely made it out with a fourth place finish to come to the state meet and stand on the podium with third overall finish (114 pts) as the Lady Trojans were led by All-Staters Patterson (6th, 19:01) and senior Erin Prillaman (7th, 19:05).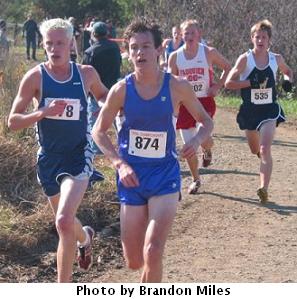 AA Boys Race - Christiansburg senior Justin Hatch capped off an undefeated season against AA competition by winning his first state title in a time of 16:15. Hatch was pressed for the majority of the race by Rockbridge senior Will Williams as the two set an honest pace for the first two miles of the race together breaking away from the field early. Hatch started to open up a lead in the final mile and then further extended it as the two hit the final stretch along the fence line. Williams held onto second place after a brave effort to take the win with a time of 16:21. Tabb senior Sean Bossman had an excellent finish to take third overall (16:22) with Matt Bierlein of Fauquier close behind at 16:23. Fort Defiance's Michael Clifton (16:33.39), the fastest and top finishing freshmen on the day, barely edged out James Wood senior James Printz (16:33.66) at the finish as he set the tone for the shocking upset that was to come. James Wood, ranked #1 not only in AA but in the entire state as well, was dethroned as AA state champs by Fort Defiance in an exciting team battle that was waged in the final 600 meters among each team's runners. In what almost appeared as a dual meet, with the low scores produced by Fort Defiance (37 pts) and James Wood (45 pts), both teams managed to place their entire top five runners in the top 25 places. Along with Clifton, earning All-State honors for Fort Defiance were Jordan Bowman (8th, 16:43) and Owen Parkinson (11th, 16:48). James Wood seniors Zachary Frye (13th, 16:54) and Kyle Russell (14th, 16:56) also joined Printz in taking All-State honors. Led by Bossman's outstanding individual performance, Tabb finally reached the podium with a third place finish (90 pts).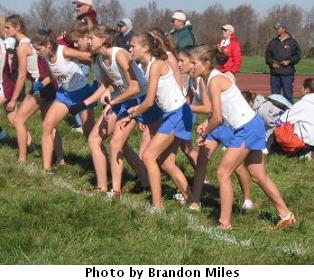 AA Girls Race - The start studded AA girls race saw plenty of lead changes to make for one exciting finish. Hidden Valley's Jennifer Beury led the pack through the first mile, while then soon after Warren County senior Emily Harrison and Martinsville sophomore Anna Chase took over pacing duties and began to break away from the chase pack around two miles that consisted of Beury, Christianburg's Kirsten Hagen, and the Fanning sisters of Western Albemarle, Jessica and Tasmin. The Fanning sisters then ran an impressive last mile to close in on Harrison and Chase. Chase would falter back behind Beury and Hagen as the two Roanoke Valley area stars were unable to go with the Fannings as they made their move after Harrison. Jessica Fanning passed Harrison with less than 400 meters to go, but the resilient Harrison countered Fanning's pass with a strong finishing kick of her own to win in a time of 18:42. The Fannings would finish up an exceptionally impressive second (18:47) for Jessica and third (18:50) for Tasmin respectively. The performances of the two sisters were only a small portion of the dominance displayed by the defending state champs Western Albemarle. The Lady Warriors fit their entire top 7 in the top 30 places with All-State finisher Samantha Stafford (14th, 19:51), senior Gina Casella (19th, 20:20), junior Kelsey Stafford (22nd, 20:35), junior Katy Goeke (23rd, 20:36), and freshmen Carrie Elwood (29th, 20:56) to finish with a jaw-dropping low score of 30 points. Brentsville, led by a strong individual race from freshmen Becky Stewart (9th, 19:15) was a distant second with 117 points. With the All-State pair of sophomore Erin Bender (10th, 19:37) and senior Joanne Britland (11th, 19:42), John Handley took the final podium position in third with 127 points.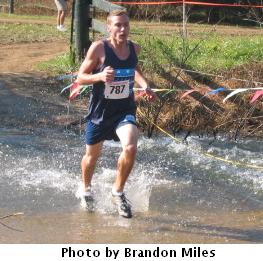 A Boys Race - The team battle between Page County and Madison County never materialized as Page ran away with the team title by a nearly 50 point margin with their 41 point team total. Page County were led to their third state title in four years by Todd Somers, who successfully defended his individual state crown and in impressive style as he won in a time of 16:29. Teammates Nathaniel Nelson (3rd, 17:02) and TJ Stonberger (11th, 17:36) joined Somers in earning All-State honors. Runner-up to Page County, George Mason with 90 points, was led by individual state runner-up finisher Andrew Montgomery, who closed well for a finishing time of 16:46. Clarke County finished third overall with 101 points and were led by an All-State performance from Simon Biddle-Snead (12th, 17:37), while Madison County finished five points behind in fourth place (106 pts) as Region B swept the first four team finishes.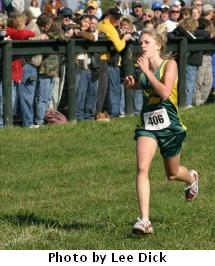 A Girls Race - Not coming from the traditional Group A powerhouse region, Region B, Region C's Kelly Clark of Glenvar and the Floyd County girls were not being given much credit heading ino Saturday's race. After they were done Saturday, they did not just get credit, they got state titles as well. Glenvar's Clark broke away from the field early and kept the lead throughout en route to her 18 second win of 19:40. Patrick Henry sophomore Maggie Lester ran an exceptionaly race as the only runner willing to give chase to Clark as she took runner-up honors in 19:48. The Floyd County girls' top three defined the word pack as they came in all together for the final three All-State spots with the all junior trio of Hanna Traynham (13th, 21:06.19), Stephanie Link (14th, 21:06.52), and Nira Walker (15th, 21:08.81). The strength of the Floyd County pack was pivotal in holding off defending champions Central, who had a strong trio as well with All-Stater Bethany Powell (12th, 21:05), sophomore Katee Knupp (17th, 21:12), and freshmen Adriana Mondragon) to finish with runner-up honors (57 pts). Matching the boys' team, the Clarke Clarke County girls earned third place honors with 67 points.
11/5 Cross Country Rankings - Just in time for this weekend's state meet.
AAA Boys Preview by Brandon Miles
AAA Girls Preview by Brandon Miles
AAA Girls Preview by Kelly Watt
AA Boys Preview by Doug McDaniel
AA Girls Preview by Doug McDaniel
A Boys Preview by Brandon Miles
A Girls Preview - by Brandon Miles