RICHMOND, VA
-- If you think you are going to wait till the start of the running events with the 4x800 meter relays at the Southern Track Classic this Friday night, you will have sadly missed one half of the excitement that will be generated from the many outstanding performances that are guaranteed to be produced at University of Richmond\'s Fred Hardy Track. The Classic has a great history of some of the most exciting field event competitions ever in the state as the deep and talented fields found can produce nothing less than greatness. MileStat.com gives an in-depth preview of the field event action in store for this Friday Night\'s Southern Track Classic. Running events preview to come later Wednesday night.
Girls High Jump
(STC MEET RECORD: 5-06 5/7/99 LACREATIA WHITE, SUSSEX CENTRAL HS)
The current co-state leaders in the high jump will face off once again at the Classic after both cleared 5 feet 8 inches at last weekend\'s Caroline Invitational. Seniors Timberly Bolden of Patrick Henry and Brittanie Williams of Armstrong both successfully cleared the height as Bolden won in a jump off. Williams will look to reverse the order this Friday night between these Central Region rivals. Tallwood junior Jasmine Gates could also take the event as she has been a consistent performer at 5-6 and has hit 5-7 before.
Boys High Jump
(STC MEET RECORD: 7-00, 5/9/03, ADAM LINKENAUGER, LORD BOTETOURT HS)
The STC boys\' high jump has always showcased some of the best high jumpers not only in the state, but in the nation with past winners such as Keith Moffatt (Menchville HS) and Adam Linkenauger (Lord Botetourt). While this year has not seen any jumpers in the state coming close to the seven foot clearances that Moffatt and Linkenauger regularly performed, Friday night could be a coming out party for the state\'s next high jumper star.
Girls Long Jump
(STC MEET RECORD: 18-07, 5/10/02, AMY STEWARD, SALEM HS)
The top seed and favorite in the girls\' long jump happens to reign from the small Group A school of Buffalo Gap in junior Angela Jenkins. Jenkins currently has the state leading mark in the event with a jump of 18-9.50 posted at the Turner Ashby Invite, but has leaped over 19 feet several occassions before including a 19-4.75 lifetime best last spring as a sophomore. Jenkins\' biggest competition might come from the best in Group AA with Pulaski County senior Leslie Anderson who is coming off a 18-7.50 win at the VMI Classic last weekend.
Boys Long Jump
(STC MEET RECORD: 24-05.25, 5/12/00, DEXTER FAULK, WOODSIDE HS)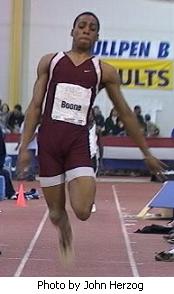 If there is any place for Thomas Dale senior Dennis Boone (pictured above) to get that perfect jump he needs to get over the 24 foot barrier this spring and push himself well up on the national rankings it is at the Southern Track Classic. STC crowds of the past love to cheer on excellence and Dennis Boone defines it in this horizontal jumping event. Boone, who has the state\'s leading mark this season with a jump of 23-11.25, is looking to redeem himself after a subpar performance at Penn Relays in which he failed to defend his title from a year ago there. Boone has won numerous state titles and even won the Nike Indoor Nationals title this past March to go along with a personal best of 24-9.75. While there are several other solid jumpers in this event, the focus and attention will be put on Boone in seeing if he can bust a big jump on Friday night.
Girls Triple Jump
(STC MEET RECORD: 40-08, 5/10/02, Yvette Lewis, DENBIGH HS)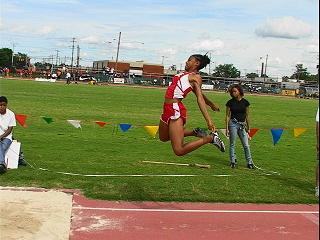 Hermitage junior Queen Harrison (pictured above) is in the same boat as Boone as she is looking to the Classic as her chance to break out of her spring funk. While she has a season best of 38-11.50, which ranks third in the state currently, she has seen better days. Harrison nearly broke 40 feet indoors as she posted a personal best of 39-11.75 at the Virginia Tech Invite. This past winter, Harrison also was a national runner-up at NIN to go along with two state runner-up honors in the event this past indoor and last outdoor seasons. She will have to bring her \"A\" game on Friday night as there are three All-American caliber athletes in the event with Rachel Lewis of Meadowbrook, Nakeisha Wineglass of Hayfield, and Angela Jenkins of Buffalo Gap. Wineglass was a surprise state champion this March over Harrison at the Group AAA State Meet where she posted a personal best of 39-8. A week later she earned All-American honors with a third place finish (39-6) at NIN. Jenkins also earned All-American honors in the event with a fourth place finish (38-8.25) at this year\'s NIN. Lewis barely missed All-American honors with a seventh place finish at NIN, but currently has a season best close to the other three jumping stars of 38-8.25. The STC girls\' triple jump should be one of the more exciting and competitive field events to watch on Friday.
Boys Triple Jump
(STC MEET RECORD: 49-11.25, 5/11/01, ALONZO MOORE, PHOEBUS HS)
The boys\' triple jump will definitely not be as competitive as their female counterparts. Not because the event is not as deep in quality jumpers, but instead Lafayette junior Dakari Taylor-Watson is simply on a whole another level from the rest of the state\'s jumpers. Taylor-Watson\'s season best of 47-9, which he posted in his win at last weekend\'s VMI Classic, currently has him almost a full two feet ahead of the next best jumper in the state. The defending Group AA state champion earned All-American honors indoors with a fourth place finish (47-3.50) at NIN.
Girls Discus Throw
(STC MEET RECORD: 131-06, 5/10/02, LINDSAY NEWBERGER, FW COX HS)
There is no one thrower that appears to be the clear cut favorite as a possible six competitors have a realistic shot at winning the event. Coming in with the top seed is Western Branch senior Maressa Facey. Facey, a Group AAA state runner-up one year ago, has thrown for 134-1.25 this spring. Last year\'s Group AAA State Champion, Manchester junior Jennifer Marinacci, hasn\'t improved quite as much as Facey this spring, but should be considered as a threat with a 122-10 season best. Fellow Central Region thrower Kathy Howard of Lee-Davis is the only other thrower in the field to have gone over 130 feet this season with Facey as she has put up a mark of 131-8 this season. Watch out for two throwers from the lesser known small schools on Friday night in Radford senior Whitney King (131-3 PR) and Clarke County senior Abby Lemon (124-5.50 PR).
Boys Discus Throw
(STC MEET RECORD: 171-00, 5/7/99, MARVIN URQUHART, WESTERN BRANCH HS)
Meet director Dan Ward did not disappoint in getting the state\'s three best boys\' discus throwers to come to the Classic to battle it out. Current state leader Michael Zajac, a junior at E.C. Glass, has a season best of 179-2. The junior has improved by nearly fifteen feet from his best throw a year ago. Group AA\'s best in Kevin Boggs of Warren County (171-8) will try his best against Zajac and Monacan senior Brian Kelly (171-1 PR) as they are the only three throwers in the state to go over 170 feet this season. Kelly is the nephew of Buffalo Bills football great Jim Kelly.
Girls Shot Put
(STC MEET RECORD: 49-04.50, 5/11/01, LINDSAY NEUBERGER, FW COX HS)
This event should pit a classic showdown between two big rivals in Lee-Davis junior Kathy Howard and E.C. Glass senior Antoinette Smith. At last year\'s Group AAA State Meet in 2004, Smith upset the favorite Howard to win the state title in the event. However, Howard has held a dominance for the most part since then as she won the state title last spring as well as this past indoor season. The Lee-Davis star currently has a strong hold on the state\'s leading mark with a toss of 44-8.50 this season. Smith, state runner-up to Howard last outdoor season, hasn\'t had quite the success this year as she had as a junior and will look to even up the score with Howard on Friday night.
Boys Shot Put
(STC MEET RECORD: 57-01.75, 5/10/02, STEVE HUNTZINGER, ROBINSON)
The boys\' shot put should be a good one as it has been anyone\'s guess who is the best in the state this year with no one thrower holding a consistent dominance over the rest. Currently, Hermitage\'s Jeffery Fitzgerald comes into the contest with the state\'s best throw of 55-4, but the newcomer has not been tested against some of the state\'s best including Midlothian senior and Clemson University bound Matt Feiling (pictured above) who finished third at Penn Relays with a personal best throw of 55-0.75. While Denbigh senior Jamyes Brooks has yet to come close to his indoor personal best of 56-2.50 with a season best of 52-3.50, the Group AAA indoor state champion has just as strong of a chance to win it as anyone in the field.
Girls Pole Vault
(STC MEET RECORD: 11-06, 5/10/02, KIRA BARCUS, ATLEE HS)
(STC MEET RECORD: 11-06, 5/8/03, RHIAN JENKS, PRINCE GEORGE HS)
(STC MEET RECORD: 11-06, 5/9/02, CHARLOTTE LAROCHE, CENTERVILLE HS)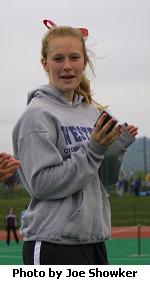 If any meet record is in definite jeopardy at the Southern Track Classic this Friday night, the girls\' pole vault (11-6 shared by three athletes) has to be it. After all, the top seed in the event has cleared a height in which no other Virginian high school female prep has ever cleared. Western Albemarle junior Ashley Early (pictured above) has the all-time state record in the event wiht a successful clearance of 12-4 this season. Early has three Group AA state titles and two All-American honors to her credentials. The mark puts her well over a foot ahead of her nearest competitor in Mills Godwin sophomore Anne Marie Gordon. Gordon cleared a personal best height of 11-3 to win the Group AAA state title in March.
Boys Pole Vault
(STC MEET RECORD: 17-00, 5/9/03, CHIP HEUSER, ST. XAVIER HS)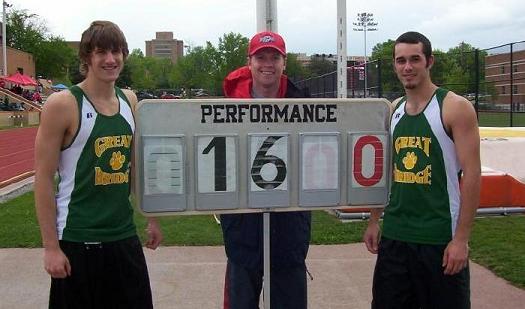 The boys pole vault competition also has another state record holder in Great Bridge junior Michael Morrison (pictured above, to the left). Morrison who has a state leading best of 16-00.75 this spring, set the indoor state record with a 16-2 clearance indoors. Morrison won the Group AAA state title indoors and also was a national runner-up at Nike Indoor Nationals this past March. Morrison\'s greatest competition Friday night lies in teammate senior Daniel Magness (pictured above, to the right). Magness has had a strong spring as he has cleared a height of 16 feet. Magness won the indoor and outdoor Group AAA state title last year as a junior.