MEET RESULTS - MEET SUMMARY - MEET PHOTOS - VIDEO CLIPS
McCorory runs US #1 200 (23.85) - Morrison vaults 16-9 US #3 - Rachel Lewis surprising double win in LJ & TJ - Hermitage girls 4x100 (46.54) upset Bethel - Pinnock wins 400 in 55, splits 53 in 4x400 - Bowman runs 2:07 800, 55 4x400 split while sick - Patrice Potts (11.85) gives McCorory (11.84) a run in 100 - DeMatha's Roper double win in 400 & 200
Meet Summary
RICHMOND, VA -- Hosting a meet on Friday the 13th is guaranteed to have some strange things go on and there were many surprises to go along with the many great performances at this year's Southern Track Classic. Several upsets, unexpected performances, scratches, and no shows made things turn out different as planned. That is why they run the meet.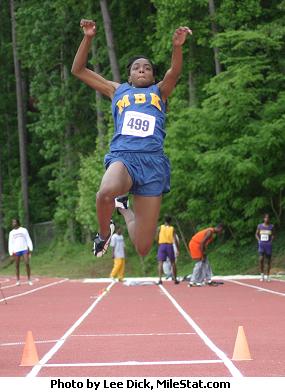 Meadowbrook senior Rachel Lewis was a real surprise in the jumps as she recorded two personal best performances to win both the long jump and triple jump. She was not expected to be a favorite to win in either event coming into Friday night. In the triple jump, Lewis leaped to a personal best mark of 39-06.50, which is a full eight and a quarter inches better than her previos top mark. The jump proved to be enough to win the event over a very strong field that had five jumpers go over 38 feet with four juniors finishing behind Lewis in Hermitage's Queen Harrison (39-00.75), Heritage's Carolyn Lewis (38-11.50), Buffalo Gap's Angela Jenkins (38-10.75), and Hayfield's Nakeisha Wineglass (38-08.25). The marks were season bests for Harrison and Jenkins. In the long jump, Lewis bested her previous top outdoor mark by a full foot with a leap of 19-01.75. The new state leading mark put her ahead of Jenkins who finished in second place in the event with a jump of 18-08.25. The jump also broke the old meet record of 18-07 set by Amy Seward of Salem in 2002.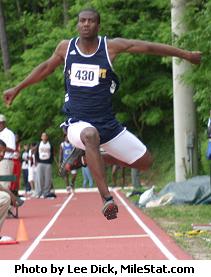 Lafayette senior Dakari Taylor-Watson squashed any hopes of any upsets in his specialty event, the triple jump. Taylor-Watson came into the meet on the Friday with a state leading mark of 47-9 and his nearest competitor was over 3 feet behind him. The outcome did not much differ from paper in competition at Southern Track as Taylor-Watson won the event with a leap of 47-07.75 as North Stafford senior Shaunne Thomas took runner-up honors with a mark of 44-05.25.
Unfortunately for the majority of the spectators, the throwing competition took place across the University of Richmond campus from Fred Hardy Track. The lack of crowd support did not stop Virginia's best throwers from turning in some strong marks.
Lee-Davis junior Kathy Howard had a very strong meet as she won the shot put competition with a state best mark of 44-11.25. The throw is a new personal best for the defending Group AAA state champion. Howard also finished in a solid second place (120-06) in the discus throw to Western Branch senior Maressa Facey. After winning the discus competition over Howard and defending Group AAA state champion Jennifer Marinacci of Manchester (114-07) with her throw of 128-01, Facey appears to be in the driver seat to win the state crown in June.
E.C. Glass junior Michael Zajac continues to perform at a top level this spring as one of the state's premier discus throwers. The state leader coming into the meet, Zajac won the event at Southern Track with a toss of 167-03 as Warren County senior Kevin Boggs (2nd, 163-11) and Chantilly senior Matthew Dobson (161-11) rounded out a solid three of throwers over 160 feet.
Coach Spain has to be happy he found Hermitage senior Jeffery Fitzgerald in the high school's hallways as Fitzgerald has overnight become the state's top shot put thrower. After making his invitational debut and winning the Dogwood Track Classic shot put two weeks ago in a state best throw of 55-04, Fitzgerald outdid himself at Southern Track against the state's best to win with an improved state best toss of 55-08.75.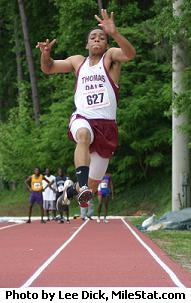 Dennis Boone was so close to popping a big one in the long jump on Friday as he gained plenty of fans, coaches, and athletes attention every jump he took, but trying to get the most of the board cost him as he had several fouled attempts. He had several 24 plus foot attempts that were called foul and Boone had to settle with first place and a winning jump of 22-06.25. However, the way that Boone was springing off that board on the Fred Hardy track runways, he is bouned to bust a big mark sometime this spring. William Fleming senior Mijuan Curtis had a strong effort to take runner-up honors to Boone with a jump of 22-02.75.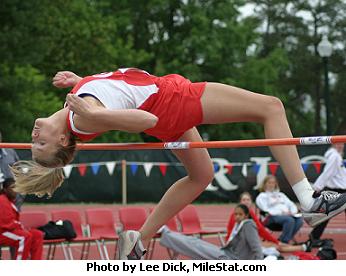 The two way battle between 5-8 high jumpers Patrick Henry senior Timberly Bolden and Armstrong senior Brittanie Williams never happened as Bolden was out at a height of 5-2. However, Williams did have her hands full with fellow Central Region rival Whitney Murrer of Mills Godwin. The Godwin senior defeated Williams at a jumpoff at a height of 5-6 to win the competition. The Central Region Meet should be exciting with those two and Bolden jumping at their best.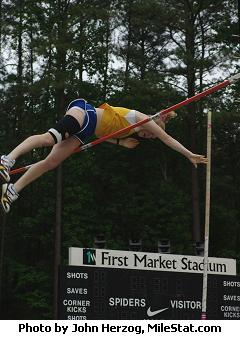 The girls' pole vault showcased how strong the event has gotten in the state over the years as a deep field and meet record were found. Four athletes went over ten feet with Patrick Henry (Roanoke) sophomore Nancy Baar (4th, 10-0), Chantilly junior Nicole Kazuba (3rd, 10-6), Mills Godwin sophomore Anne Marie Gordon (2nd, 10-6), and meet champion, Western Albemarle junior Ashley Early (11-9). Kazuba had an excellent meet as the clearance of 10-6 was a new personal and should enter her in the fray of six other pole vaulters in Group AAA including Gordon and Baar who will be contending for the state title in June. Early, who competes in Group AA for Western Albemarle, was simply on another level than the rest of the field. All of the other competitors were out before she made her first attempt at 11-0 and won the competition without a sweat in a successful first clearance. Early then cleared 11-9 next successfully and went up to 12-3. At 12-3, Early had three misses, but each miss was a close one. Early still has the state best at 12-3 which she cleared at Dogwood two weeks ago.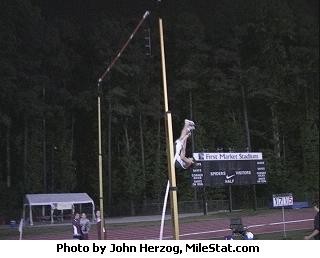 The final finishing field event of the night and rightfully so as it included by far the best performance of the night was the boys' pole vault. Five athletes over 14 feet and a surprisingly poor showing for Great Bridge senior Daniel Magness as he came in at a height of 15 feet and ended up recording a no height to show for himself with three misses at a height that is a foot less than his personal best. In the wake of no height for Magness, Western Albemarle senior Stephen Thompson responded with a successful clearance of 15 feet. The mark was a new outdoor personal best for Thompson by six inches and asserts himself as the Group AA state title favorite now. However, this event belonged to Great Bridge junior Michael Morrison. After seeing his 16-0 personal best teammate Magness make a quick exit from the competition, Morrison responded by taking his game to new heights. Morrison was able to clear 16-2 and tie his all-time personal best and then he decided to make an attempt at a height of 16-9. With the crowd's support, Morrison took assault on 16-9 and cleared it successfully to earn the nation's third best height to date. Morrison then took his sights on the national leaderboard as they moved the bar up to 17-1.50. To the dismay of Morrison and the crowd, Morrison was unable to get a clean clearance to move himself up to a U.S. number one mark. Ironically, Morrison still did not get the meet record even with the 16-9 clearance as Chip Heuser of St. Xavier (Kentucky) cleared 17 feet in 2003.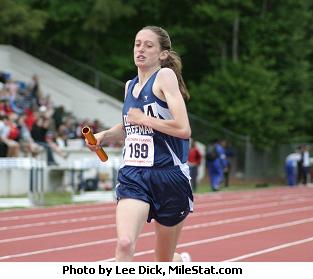 The girls' 4x800 meter relay kicked off the running events and it turned out to be a great race. The Midlothian girls, running without departed team member Amanda Patterson and an injured Jessica Oakley, were able to put together a formidable squad that led for the first three legs with Christine Sealander, Erin Stehle, and M.C. Miller. However, the Douglas Freeman girls were able to handoff to 2:15 800 anchor leg Christi Harsha with a short enough distance to chase down Midlothian anchor Tierney Willard to win in a season best time of 9:31.30. The Midlothian girls would take second place in a time of 9:35.39, while Group AA Brentsville was third in a Group AA state leading time of 9:36.82. The Brentsville girls' relay of Maria Cheshire, Alex Kulifay, Anne Mitchell, and Becky Stewart should make easy work of the competition at the Group AA State Meet in June if they run like they did on Friday night.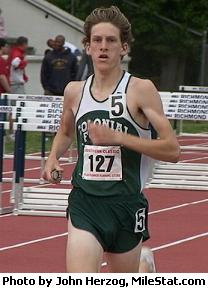 Germanstown Academy of Pennsylvania was a no show in the boys' 4x800 meter relay, and it was a shame cause they would have had a race on their hands with Colonial Forge. While coming in with only a season best of 8:08, the Colonial Forge boys put a squad together on the track Friday night that definitely had the potential to dip under 8 minutes. All four legs were solid and kept Colonial Forge out in front to stay with Tony Nowotarski, Arno Dieckmann, Andrew Bennett, and Dan Leyh. Dieckmann on second leg took the lead for Colonial Forge as the team ran solo in the lead from there on out as Leyh closed on anchor leg for a time of 7:56.71. Hayfield senior Brian Fussell had the strongest leg in the event as he brought his team up from the rest of the pack to finish second overall in a Group AAA state qualifying time of 8:01.52 thanks to his 1:55 split.
Heritage senior Octavia James came to Southern Track Classic to make a statement and that was shown in winning the 100 meter high hurdles over previous state leader Jasmine Major of Hermitage (2nd, 14.70) in a new state leading time of 14.49. James had yet to dip under 15 seconds this season after doing it on numerous occassions last spring. James won a state title this past March at the Group AAA State Indoor Track Meet in the 55 meter hurdles and will be looking to win another hurdle title in the 100 meter hurdles in June.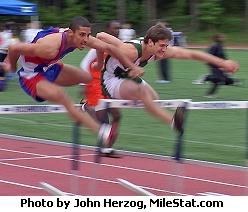 Michael Morrison, who won the pole competition late in the evening with a US #3 clearance at 16-9, competed in the 110 meter hurdles prior to that as well. Morrison came in with the state leading time of 14.49 and would be pitted up against one of Maryland's finest in DeMatha Catholic junior Geoffrey Daley. The two battled it out almost evenly hurdle to hurdle, but Daley (14.61) was able to get the best of Morrison (14.63) at the end in an exciting race to the finish.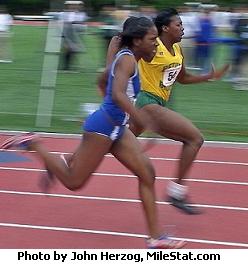 Brunswick Senior's Patrice Potts nearly pulled off the upset of the night. In the girls' 100 meter dash, few expected the senior Potts from the small Group AA school of Brunswick senior to give Bethel junior Francena McCorory a run for her money. McCorory came as the overwhelming favorite with a season best of 11.87 as she won MVP honors at the Mobile Meet of Champions in Alabama and defeated several national caliber athletes there. McCorory was an All-American indoors as well. However, Potts was not intimidated by McCorory's accolades as it was shown in taking McCorory down to the wire in a finish that had the crowd thinking Potts had just defeated the once undefeatable McCorory. However, the photo finish showed McCorory (11.84) had in fact won the race over Potts (11.85) in a hundredths of a second difference. Both dipped under the previous meet record of 11.96 by Ara Townes of Bethel in 1999.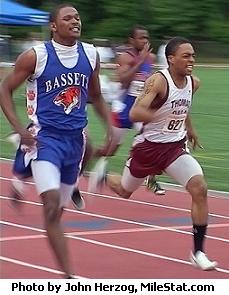 Brandon Dillard of Bassett was a surprise last second entry into the meet as he was not even included in the meet entries or preview. However, meet director Dan Ward certainly could not turn away the state leading 100 meter runner. Dillard's entry gave the meet a much anticipated matchup between two legit sub 11 dashers in Dillard and Thomas Dale senior Dennis Boone. The two did not disappoint in giving the crowd a show as Dillard defeated Boone (10.71) in an improved state leading clocking of 10.65. Dillard being the best in Group AA and Boone being tops in Group AAA might have this as the only encounter between the state's two best sprinters besides at possibly nationals.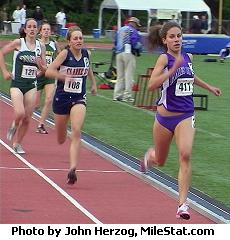 With Sarah Bowman under the weather and forcing to scratch the mile to conserve her energy for one event in the 800 meter run, the girls' mile field was left suddenly open for anyone to win. The pack stayed clustered for much of the race with Colonial Forge freshmen Kaylan Comer and Great Bridge sophomore Kristy Tobin being the early pacesetters. However, James River senior Rebecca Ward took charge on the final lap and finished strong to take the victory in a time of 5:10.12. Clarke County freshmen had a strong kick and nearly caught up to Ward to take runner-up honors in a time of 5:10.67, while early leaders Comer (3rd, 5:11.52) and Tobin (4th, 5:12.65) trailed in just behind the first two finishers.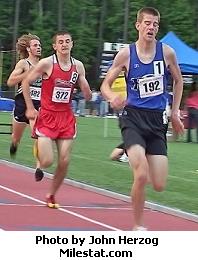 With Georgetown Prep's Steve Duplinsky being a no show and J.R. Tucker senior and 4:15 miler Michael Chapa scratching to stay fresh for the two mile run later in the evening, the mile was softened without any true pacesetters. The only competitor in the race willing to take it out was 4:17 miler Patterson Wilhelm as he shot out to the lead from the get go and ran in no man's land for the entire race. Leading wire to wire, Wilhelm was starting to get reeled in on the final lap, but was able to hold off a hard charging Ermin Mujezinovic (4:21.86) to win in a time of 4:21.48. Massaponax senior Brandon Dick also turned in a solid effort to finish third overall in a personal best time of 4:22.54.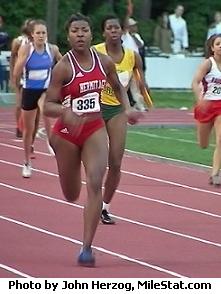 The Bethel girls came loaded in the 4x100 meter relay, but the Hermitage girls came ready. The Bethel girls came in as the heavy favorites after posting a 46.54 and finishing well in the Championship of America finals at Penn Relays, but the state's second fastest relay in Hermitage felt they could match that effort. Without thousands of roaring fans cheering at Franklin Field, the Hermitage relay of Jasmine Major, Queen Harrison, Gevonda Winston, and Tanique Carter ran the exact time as the Bethel girls did at Penn with a 46.54 clocking as they took down Bethel's "A" squad (47.31) of Francena McCorory, Crystal Carrington, Essynce Roberts, and Shakirra Pinnock. While the crowd and the Hermitage girls rightfully so celebrated the upset, there is no doubt that Coach Eddie Williams and the Bethel girls will have revenge on their mind at the state meet in June.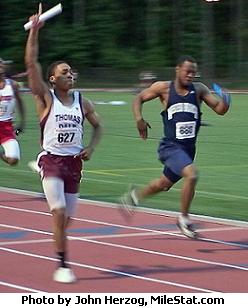 The boys 4x100 meter relay team pitted up against the state's two fastest relays in Thomas Dale and Western Branch. Thomas Dale had the more legit time with a 42.17 FAT time, while Western Branch had boasted a hand held time of 41.8. On Friday night, no one could dispute who the better team was as they faced off on the same track with the same timing system. Through three legs it was a dead even heat, but anchor leg Dennis Boone for Thomas Dale scorched the homestretch as the Knights pulled out the win in a state best time of 42.14. Making up the relay along with Boone were Richard Boone, Jeron Crooks, and Jonathan Edwards. Western Branch took runner-up honors in a time of 42.30.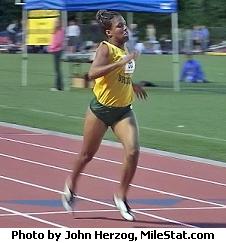 Shakirra Pinnock was surely not happy with the outcome of the Bethel girls' 4x100 meter relay earlier and it showed in the 400 meter dash as she destroyed the field in a state leading time of 55.80. The time was a huge personal best for Pinnock as she had not posted a time under 57 seconds in two years when she was a sophomore. Taking second place in the event was Oscar Smith junior Crystal Roscoe in a time of 56.46.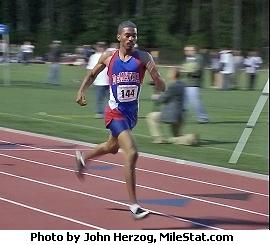 After Hayfield junior Chris Richardson defeated DeMatha Catholic (MD) senior Kai Roper at last weekend's T.C. Williams Invite, Roper wanted to get revenge on Richardson at Southern Track Classic. Richardson ran the state's fastest time at T.C. Williams with a 48.39 clocking. Roper reversed the decision on Friday night as he blazed 400 meters in a winning time of 47.56. Richardson, who doubled back from running a leg on the runner-up Hayfield 4x800 meter relay earlier in the night, nearly matched his time from a week prior in a second place effort of 48.51.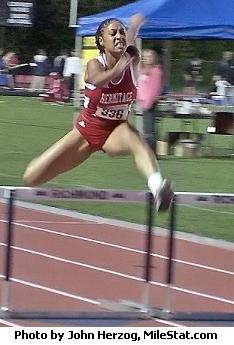 Carrying the momentum from the huge victory over the Bethel girls in the 4x100 meter relay, Hermitage's Queen Harrison kept her winning ways with an amazing performance in the 300 meter low hurdles. Harrison won the event in a meet record breaking time of 43.17. The time was also a personal best for Harrison and as well is the new state leading time. Defending Group AAA state champion Tierra Brown of Hampton (43.87 season best) will have her work cut out for her to repeat with Harrison in the way. Heritage senior Octavia James doubled back nicely from her win in the 100 meter hurdles to place second in a time of 45.29.
The boys' 300 meter hurdles turned out to be a lot stronger than previously thought as the state's two fastest times came out of the event. Hayfield senior Travis Swaggard came into the meet having never broken 40 seconds in the event and had not really been considered as one of the state's top hurdlers. However, Southern Track saw a whole new Swaggard as he won the race in a new personal best and state leading time of 38.24. It was not an easy win for Swaggard as he was just able to defeat Hampton senior Hamid Abdurrahim, who was less than a tick behind him at 38.26 for the state's second fastest time this year.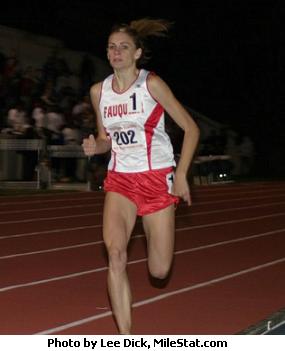 Fauquier senior Sarah Bowman had geared towards Southern Track Classic as the meet where she would do some record shattering in the mile and 800 meter run, but her health had other plans. Coughing throughout the meet, Bowman scratched the mile to conserve her energy for a solid time in the 800 meter run. With a no show from Devon Williams and Katie Doswell not performing at her 2:47 100 meter level in indoors, Bowman had to make a race for herself as she went out in 61 seconds for the first 400 meters. However, the hot pace and her sickness kept her from closing as hard as she would like to as she crossed the line in a time of 2:07.38 for a solid effort given the circumstances. The field behind her was deep as was billed as a slew of runners were under 2:20. James Monroe senior and University of Kentucky bound Shylan Bumbrey had an outstanding run to take second place honors in a personal best time of 2:12.46. Bumbrey and Bowman will be seeing a lot of each other for the next few years in SEC competition as Bowman is going to the University of Tennessee in the fall.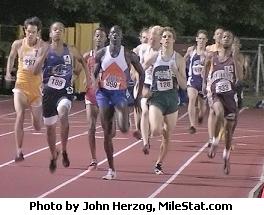 The boys in the 800 meter run forgot that they were at Southern Track Classic racing for time and a national title was not on the line. In typical idiotic kicker strategy fashion, the field went through the first 800 meters in a pedestrian 60 second pace with J.R. Tucker senior Thuom Mathaing leading the clustered pack. It was not until the last 100 meters that any racing was seen as a dramatic change in speed was seen in the field as several runners tried to seize the lead from Mathaing. Mathaing was able to hold off the charges to win in a time of 1:57.55 as state leader Carlton Phipps of E.C. Glass took runner-up honors at 1:57.97.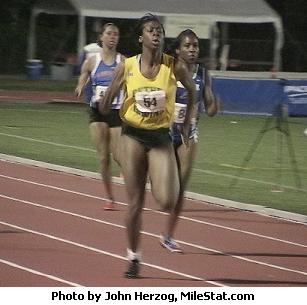 Francena McCorory was not a happy lady after nearly losing the 100 meter dash to Patrice Potts and finishing second to the Hermitage girls in the 4x100 meter relay. She unleashed her anger in the 200 meter dash as she blew out the field including Potts (2nd, 24.19) in a national leading time of 23.53. In some way, the 4x100 meter relay loss was a blessing for McCorory as it helped fuel her to the amazing time.
Kai Roper of DeMatha Catholic proved himself as the clear athlete of the meet on the boys' side in the running events as he won the 200 meter dash in a simply sizzling time of 21.81. Prince Edward County junior Deangelo Wilson garned some recognition for himself with a personal best time of 22.17 for second place behidn Roper and should be a challenger for the Group AA state crown in June.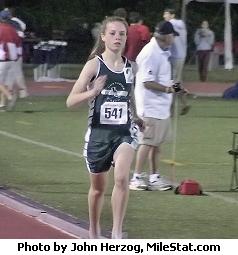 Catherine White really should find a friend to run with. The story of the Northside sophomore's spring track season has been running sub 11 two miles by herself. With Foot Locker finalist Aurora Scott of Western Branch scratching from the meet, White was left to set a pace for herself and she did so in dominating fashion as she won the eight lap event in a time of 10:54.83. The time converts to a 10:51.03 for 3200 meters and improves upon her personal best and state leading time. North Stafford junior Amber Lussier (11:11.35) and James River senior Christy Ward (11:13.28) closed strong in the final lap to take second and third respectively in the race.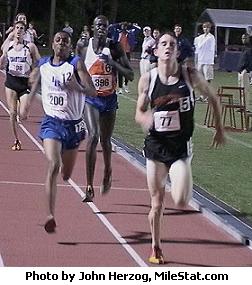 The boys' two mile run was definitely the most exciting distance race of the night as J.R. Tucker senior Michael Chapa and Brentsville senior Pat Eggleston made it one. The two runners broke away from the field early to set for a two man foot race as they set an honest pace for the rest to follow. Going through the mile in approximately 4:38, the pace was kept steady and the two runners shared the lead into the final lap with distance on the field. Chapa appeared to be pulling away from Eggleston on the backstretch, but Eggleston rallied back to the outside of Chapa off the final curve. With 25 meters to go, Eggleston seemed to have pulled ahead of Chapa and secured the win. However, a hard charging Mikias Gelagle of Eleanor Roosevelt (MD) nearly caught an unsuspecting Eggleston at the line with only two hundredths of a second separating first from second with Eggleston at 9:18.53 and Gelagle 9:18.55. Chapa was caught at the line by Chantilly junior Brad Siragusa gained a lot of ground in the final lap to take third place in 9:20.46. Chapa, who led pretty much the entire race, finished fourth in a time of 9:21.27.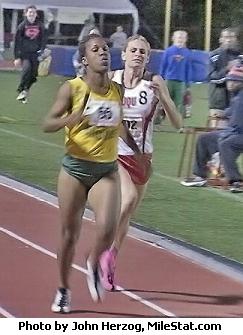 Another exiciting finish followed the boys' two mile in the girls' 4x400 meter relay. The Fauquier blonde foursome of Kaitlyn Vincie, Katie Brown, Renee Lott, and Sarah Bowman had given Bowman the lead on anchor with a few seconds on Bethel anchor leg Shakirra Pinnock. Pinnock gave chase to Bowman with a swift first 200 meters on the backstretch and had caught up to Bowman by 300 meters. It appeared that Bowman's distance strength might rally her back to take Pinnock, but Pinnock was too strong with a jaw-dropping 53 second split as Bethel won in a time of 3:52.20. Bowman finished with a rightfully impressive 55 second split on Pinnock's heels as Fauquier finished in at a time of 3:52.37. Not bad at all considering Bowman's health as well. The time was probably the best run by a Bethel squad without McCorory and the Fauquier girls improved upon their Group AA all-time best that they had set at Dogwood two weeks ago with a 3:56 clocking. The race was definitely a fitting way to close out the girls' portion of the meet.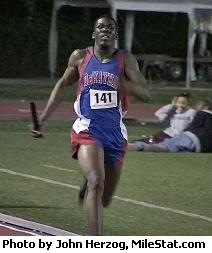 The DeMatha Catholic boys knew going in it would be race against the clock on their own. No team in the field could touch the squad that posted a 3:12 at Penn Relays. However, the DeMatha boys still put up an honest effort to please the crowd as they won with a solid time of 3:17.55. The greatness of the DeMatha squad helped elevate the intensity and performance of the Virginia relays as was shown with the 3:21's posted by Potomac Senior (2nd, 3:21.35), Hayfield (3rd, 3:21.67), and Douglas Freeman (4th, 3:21.94), which are three of the four fastest times posted this year.
While the year of absence and the scratches and no shows may have hurt the quality year's Southern Track Classic some, for those athletes, coaches, parents, and fans that witnessed how special a meet like this is to the state of Virginia, they know that those absent truly missed out on a great opportunity that only comes around once a year. Next year's Southern Track Classic promises to be better and stronger with the best of Virginia and those out-of-staters who dare to try their luck against the best the state has to offer.