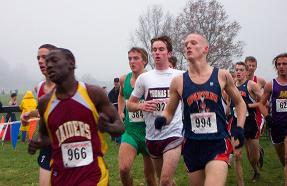 THE PLAINS, VA
-- The state's top harriers gathered in Great Meadows for one exciting state meet in the midst of chilling rain, temperatures in the 40's and muddy and slippery course conditions. While the weather broke a few top individuals and teams, there were many others that rose to the occassion and stepped it up on championship Saturday.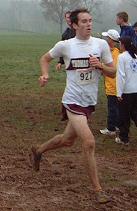 The story on how to get your team on the podium in the AAA boys race was to have a pair of all-staters. Nationally ranked Thomas Jefferson led by two all-staters Christo Landry (4th, 16:18.47) and Keith Bechtol (11th, 16:30.02) wins team title with 72 pts as Midlothian gives them a good run as they take runner-up (79 pts) with all-staters Ryan Witt (12th, 16:31.19) and Brandon Miles (16:33.19). West Springfield goes from fourth in their region to third in the state (130 pts) as they definitely had the best duo of the day with Jeff Day (3rd, 16:14.98) and Steven Tobin (7th, 16:21.61) both garnering all-state honors. Lake Braddock just misses the podium with 133 points as they were led by senior Steve Hoogland (6th, 16:20.74). Thomas Dale senior Alex Tatu defended his state title and in similar fashion with a strong finish as he pulled away from the chase pack at the end to win with a time of 16:04.64. Green Run junior Steve Walters disproves the thought that beach area runners cannot run hills as he has an exceptional run for second place (16:09.84).
Last year's state runners-up, James River, dominates a field that consisted of a group of Northern Region teams that were considered as pre-race contenders. James River scored 83 points behind all-state performances from junior Lindsay Traudt (6th, 19:32.15) and senior Kristin Coffield (11th, 19:40.72). The next three spots were all Northern Region. Coach Ryan at Thomas Jefferson enjoyed a very successful day as not only did his boys' team win a state title, but his girls finished runner-up with 129 points as they were paced by senior Shauneen Garrahan's all-state finish (14th, 19:45.75). Lake Braddock (134 pts) was able to hold off Herndon (138) for the final podium spot of third with senior Kelly Swain's all-state finish (19:43.83) leading the Lady Bruins.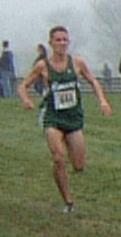 While already possessing indoor and outdoor track 3200m state titles, Hickory senior Jennifer Boyd decided to seize the moment and seize her first state cross country title as she won in a stellar time of 18:54.44 when considering the course conditions. Hayfield's Morgan Phelan made sure it would not be a blowout win for Boyd with her strong race in taking second with a time of 19:00.27.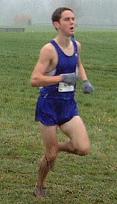 Possibly one of the wider team races heading into Saturday, turned out not to be so as James Wood was clearly the superior team in the field as they won with 76 points as they placed almost four runners in the top 26. The state champs were led by James Printz (16:41.51) and Zachary Frye's (15th, 16:50.75) all-state performances. Rockbridge took runner-up for the second consecutive year as individual state titlist John Crews (15:42.36) was unable to get the support to take down James Wood. There was a close fight for the final third spot as Fort Defiance (98 pts) was able to hold off Coach Walker's troops at Marion (104 pts). Crews's time was the fastest on the day, but he felt some heat at the end as Louisa County senior Daniel Kane continues to perform year in and year out at the state meet as Kane closed hard with a time of 15:45.09 to take runner-up to Crews. Region II dominates with 11 of the top 15 finishers and four of the top five teams. Obviously shows the current system is skewed in AA, and the regions need to be aligned more evenly in terms of number of schools.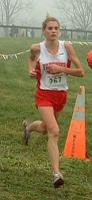 Despite the fact, odds-on favorite Western Albemarle had their two top harriers in the Fanning twins have off races as younger Fanning, Tasmin (13th, 20:04.31), was the sole all-state performer for the Lady Warriors, their great depth came to the call as they won the state title by nearly 50 points with a 76 point total. Jefferson Forest, who many had once thought not only had their streak of state titles ended, but also their streak of making it to the podium was gone after their heavy loses from last year's state title squad, showed tradition can take you very far as they were a pleasant surprie for runner-up behind Western Albemarle as they were led by all-stater Cate Jackson (15th, 20:08.94). The battle for third was a tight one as only 12 points separated third from sixth as it was John Handley (128 pts) who rose above the group to join Western Albemarle and Jefferson Forest on the podium. Christiansburg (4th, 131 pts), Rockbridge (5th, 133 pts), and Jamestown (6th, 140 pts) all fell just short. Not only did AA have the fastest boys' time of the day, but as well as the fastest clocking for the girls as Fauquier sophomore Sarah Bowman won in dominating fashion (18:48.38) in what looks to be simply one of a many more state titles she will win in the future. Warren County's Emil Harrison had a very respectable showing with a second place finish to Bowman in a clocking of 19:17.04.
The closest team battle of the day was witnessed in the A boys' race as Brentsville finished out their last year in A (moving up to AA next fall) by winning a state title (44 pts) over defending state champions Page County (49 pts). Brentsville put all five runners in the top 15 with Ben Truschel (8th, 17:52.15), Andrew Cheshire (9th, 18:00.05), Nick Gehlsen (10th, 18:08.35), Jacob Watts (14th, 18:18.03) and Pat Eggleston (15th, 18:18.48) making up that fab five. Page County matched well through four with race winner Todd Somers (16:53.85), Brandon Price (5th, 17:34.95), J.J. Gray (12th, 18:13.02), and Nathaniel Nelson (13th, 18:16.18) all taking all-state honors, but that all important number five cost them the state title against Brentsville. Madison County finished third (92 pts) with two all-state performers in Stephen Nash (4th, 17:31.60) and Travis Hunnicutt (6th, 17:41.42) leading them to the podium. The boys' individual race was an exciting finish as Somers was able to pull away from George Mason's Andrew Montgomery (16:55.95) for the win.
Central-Woodstock (45 pts) put an end to the Brentsville girls historic streak of state titles as Brentsville finished third with 116 points. Central had three all-state runners to key the win with Katee Knupp (8th, 21:27.17), Bethany Powell (11th, 21:53.83), and Asha Fleming (13th, 21:58.89). Madison County girls were runners-up as they were just ahead of defending state champions Brentsville with 114 points. Anna Carpenter of Giles won her first state title with a nice cushion of almost 30 seconds with her time of 20:18.90.