NEW YORK, NY
- Two Virginians have been invited to run in the elite Millrose Games high school mile races as both Fork Union senior Kippy Keino and Hickory senior Jennifer Boyd have received invitations. This is the 96th annual Millrose Games as it will be held on February 7th at the Madison Square Garden in New York City. Both Keino and Boyd are the current state leaders in the 1600 meter run.
Keino is making a return to the Millrose Games as last year he also competed in the mile along with friendly rival Alex Tatu of Thomas Dale. Keino, a Foot Locker All-American this past fall in cross country, boasts a personal best of 4:12.74 for 1600 meters and this indoor season has the current state best at 4:17.53 from his win at the CNU Showcase earlier this month.
Keino will be in a very strong field consisting of big names such as New Yorkers Brian Dalpiaz, Brendan Fennell, and Kevin Tschirhart as well as Matt Debole of North Carolina.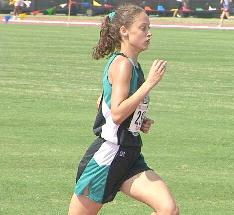 Boyd will be making her first trip to Millrose as she so far has had a very impressive winter season of racing. Boyd already has two sub 5:05 clockings under her belt with her most recent being two weeks ago at the Montgomery Invitational where she won the mile in a time of 5:03.28 as the time currently ranks atop the state rankings in the 1600 meter run.
The girls' field consist of many national caliber athletes such as the Trotter twins from New Jersey, Nicole Blood from the dynasty known as Saratoga Springs (NY), and such Foot Locker National qualifers as Arie Lambie of Massachusetts, Meghan Owen of Connecticut, and Laura Cummings of New York.