As with the male AA runners, there are a group of girls that appear to be in an elite group. There are six girls that have posted 5000m cross-country times less than 19 minutes. This prestigious pack of Virginia runners is also at the top of Milestat's elite rankings in the 3200m, 1600m or 800m run. Any six of these on a given day may be the 2003 AA VHSL State Cross-Country Champion. However, of the six there are three that one could argue to be the favorite to take home the 1st place medal. Sarah Bowman of Fauquier, Emily Harrison of Warren County, and Jennifer Beury of Hidden Valley in Roanoke will be the three pre-season favorites to win it all.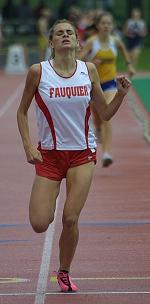 Sarah Bowman a rising junior is the defending AA State champion as she handled the sloppy course in a convincing fashion with a time of 18:48.38. She continued to shine in track, as she was National Champion in the 1600m run at the Nike Indoor Championships with a time of 4:48. Bowman ran the states 2nd fastest 5000m in cross-country with a time of 18:22 at the Region II meet. Bowman has the states best times in the 1600m (4:45.13) and 800m (2:11.23)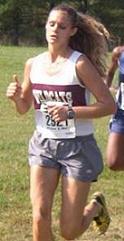 Emily Harrison a rising senior and state runner-up from last year may be ready to stake a claim to the #1 spot. After a disappointing trek in the mud at the VHSL state cross-country meet, Harrison returned a week later to McAlpine Park the site of the Footlocker South Region to post the fastest 5000m time (18:16.81) in 2002 of any Virginia female runner. Harrison also had an outstanding track season as she ran the 2nd fastest 3200m (10:44.52), the 3rd fastest 1600m (5:01.39), and the 4th fastest 800m (2:18.72)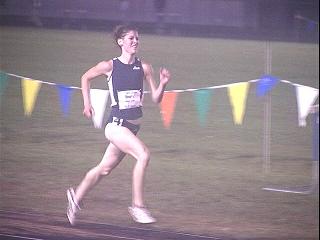 Jennifer Beury another rising senior and 3rd place finisher at last years state cross-country meet made a big impression in track and may have closed the gap needed to contend for the title. Beury finished the year with the states best 3200m time with a 10:39.71 at the Southern Track Classic, and then followed it up with a state record (10:46.03) in the 3200m for the AA VHSL State Outdoor Track and Field Meet. Beury also has the states 4th best 5000m (18:41.13 at Footlocker), 4th best 1600m (5:03.99), 6th best 800m (2:22.45).
The other three girls in the top six are Anna Chase a rising sophomore at Martinsville, Jessica Fanning of Western Albemarle, and Katie Endes of Potomac Falls. Chase may have the best chance to challenge the top three. Chase was the best freshman in the state last year and posted the 3rd fastest 5000m (18:33.38 at Footlocker), the 3rd fastest 3200m (10:45.22) and the 5th fastest 1600m (5:06.56). Fanning like Harrison may have had a dismal showing in the mud at the VHSL state cross-country meet (20:30.37), but like several other boys and girls she showed her talents on the dry Footlocker South course with an impressive time of 18:46.69 for the 5th fastest time posted for a 5000m cross-country race. Fanning also had an outstanding track season with the 2nd fastest 1600m (4:54.39), 4th fastest 3200m (11:1354), and 5th fastest 800m (2:16.54). The last girl in the group with a sub 19 minute 5000m is Katie Endres. Endres finished 4th at last years state meet and followed it up with a time of 18:57.51 at Footlocker South. Endres track times are impressive as well (3200m - 11:28.26, 1600m - 5:18.73, and 800m - 2:25.84).
There will be a big pack of girls contending for the remaining nine spots which make up All-State. The girls are Kristen Novara of James Wood - 19:39.93 VHSL meet, 11:40 3200m, 5:15.06 1600m and 2:24.84 800m, Michelle Beardman of Warren County - 19:56 VHSL meet, 11:25.44 3200m, and 5:14.63 1600m, Kirsten Hagen of Christiansburg - 19:13.22 at Footlocker, 5:17.51 1600m, and 2:24.53 800m, Tasmine Fanning of Western Albemarle - 19:41.64 at Footlocker, 5:09.98 1600m, 11:35.44 3200m, and an impressive 3rd best 800m in 2:14.42, Alissa Williams of Greensville County - 5:14.03 1600m and 11:28.56 3200m, Elizabeth Mahalak of Chancellor - 11:42.26 3200m and 5:36.24 1600m, Kelsey Stafford of Western Albemarle - 11:26.34 3200m and 5:24.66 1600m, Joanne Britland of John Handley - 11:27.35 3200m and 5:25.54 1600m, Kelly Zwart of Rockbridge County - 19:57.03 at Footlocker, Carly Sitterly of Jefferson Forest - 5:32.25 1600m and 11:45.95 3200m, Erin Means of Jamestown - 5:19.35 1600m and 11:57 3200m, Erin Bender of John Handley - 11:32.53 3200m, Samatha Stafford of Western Albemarle - 5:27.99 1600m and 11:44.10 3200m, and Gina Cassella of Western Albemarle - 11:30.88 3200m and 5:32.48 1600m.
There are lots of girls that are pretty close to this elite group. We will just have to wait until November to see how your favorite runners finish. This should be an exciting year, and we also look forward to watching the freshman class as new runners always come into contention.