BRISTOL, TN
-- The challenge of cross country is constantly pushing your limits. Run faster, race harder.
On Saturday in the 2002 Shoney\'s Run for the Hills Cross Country Meet at South Holston Dam, Marion\'s Dena Spickard and Jamestown\'s Jonna Reinhardt rose to the challenge and won their individual races in convincing fashion.
Jamestown\'s Lady Eagles placed four runners in the top 15 to win the team title with 42 points. Defending champion Jefferson Forest was second with 60 points while Christiansburg finished third (73).
Jefferson Forest\'s boys captured their meet title with 104 points. Franklin Road Academy was second (114) with Spring Valley third (117).
Spickard\'s first stride put her in the lead and she was the front-runner the entire race.
\"I didn\'t plan to go to the front so fast,\'\' said Spickard, a senior. \"Actually, it was a little scary.\'\'
Running like she was being chased by the devil, Spickard quickly built a 30-yard lead. Eventually she led by as much as 50 yards.
Then Jamestown\'s Erin Mearns started to reel her in.
\"I was able to cut the gap quite a bit,\'\' said Mearns, \"but this course is so rough it was hard to build up any momentum. I just couldn\'t catch her.\'\'
Spickard felt Mearns\' presence late in the race.
\"The crowd was yelling so loud I knew she was coming on,\'\' Spickard said. \"But my goal this year is to run hard and finish strong in every race. I really pushed hard the last 200 yards.\'\'
That late effort was more than enough for her to hold off the charging Mearns.
Spickard\'s winning time was 19:51 with Mearns crossing the line at 19:58. Cate Jackson of Jefferson Forest was third (20:15).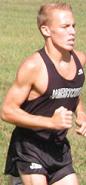 Reinhardt and Abingdon\'s Tommy Antennuci fought a classic battle in the boys\' race. Exchanging the lead over the demanding South Holston course, neither runner appeared ready to take control.
\"It was a great race,\'\' said Reinhardt. \"I would take the lead then Tommy would take it back.\'\'
Trailing Antennuci by about two seconds with less than 200 yards to go, Reinhardt almost gave up.
\"He was close to breaking me,\'\' Reinhardt said, \"but I\'d raced against him before and knew if I could just hang on I might have a shot at him.\'\'
With 150 yards to go Reinhardt made his move. Passing Antennuci, he turned up the pace and dashed for the finish line.
\"He has such a good kick,\'\' said Antennuci. \"I knew I had to have more of a lead at the end. I just couldn\'t answer when he passed me.\'\'
Reinhardt finished in a winning time of 15:54 with Antennuci second at 16:04. Brian Raymond from Spring Valley was third (16:43).