From the beginning of creation, I think our maker had plan
For us to leave these shores and sail beyond the sand
And let the good light guide to the waves and the wind
To the beaches and a world where have never been
And we\'ll climb upon a mountain, y\'all we\'ll let our voices ring
Those who\'ve never tried they\'ll be the first to sing
Woah My My
I\'ll see you on the other side
If I make it
And it might be a long hard ride
But I\'m gonna take it
Sometimes it seems I don\'t have a prayer
Let the weather take me anywhere
But I know I wanna go
Where the streets are gold
Cause you\'ll be there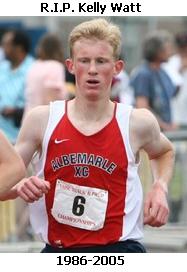 The things we see now are here today, gone tomorrow.
But the things we can\'t see now will last forever.
2 CORINTHIANS 4:18
CHARLOTTESVILLE, VA -- Kelly Watt (11/2/1986 - 7/30/2005) passed away at 11:48 this morning from complications of a heat stroke suffered on Tuesday afternoon run. A few months shy of his 19 birthday, Watt graduated from Albemarle High School finishing up an outstanding high school career as he qualified for state meet competition in all three seasons (cross country, indoor, and outdoor track) to go along with his numerous All-District and All-Region honors. Watt was headed to the College of William & Mary in the fall and run for the cross country and track team there. Watt was a big part of the MileStat.com community not only as an athlete covered on the site with 43 recorded elite performances, but also as part of the site staff as he wrote more than a handful of articles for the site over the years. In a telephone conversation only a few hours after his son\'s death, Paul Watt told MileStat staff member Doug McDaniel that \"He (Kelly) loved running and he loved MileStat.com. He would stay on it for hours.\" Well to honor Kelly\'s love for this great sport and this website, he\'ll be able to stay on MileStat a little longer than hours as we\'ll keep a remembrance of Kelly on the front page of the site for an extended period of time. Mr. Watt summed up the tragedy best with the statement, \"Kelly died doing what he loved.\" Visitation and funeral information is listed below. Right now the Watt family needs all the support and comfort they can get. I am asking any site viewers in the MileStat.com community that are willing to write a condolences to the Watt family by sending your condolences in via email at milestat@yahoo.com. If you could do this small favor it would be greatly appreciated by myself and of course the Watt family.
Visitation is Tuesday August 2 from 7:00- 8:00 at:
First Baptist Church
735 Park St.
Charlottesville, VA
Funeral is Wednesday, August 3 at 1:00 at:
Christ Episcopal Church
100 Jefferson Street
Charlottesville

If anyone has questions concerning Kelly\'s arrangements, directions, or other funeral or viewing information call 434-296-6195.
Condolences to the Watt family:
Dear Watt family,
My wife and I didn\'t know your son, but we do know what you\'re going through. And we know that there\'s little we can say that will truly comfort you. Our daughter, Grace, died of sudden cardiac arrest on a training run at CNU almost seven months ago. She too was doing one of the things she loved most. Her death has created a hole in our lives that we know will never be completely filled.
As you can see here (and probably already knew), the running community is full of good and caring people. And it\'s obvious Kelly was was somebody to be proud of, a good kid who touched and impressed those around him. Those folks -- runners, parents and coaches alike -- have helped us a good deal. I hope they can do the same for you.
Our hearts go out to you. I\'m sure that you all have your own network of family and friends to support you, but if you ever feel that talking to one of us might help, please be in touch. We\'re easy to find, either through the Internet or telephone directory.
Rick and Lisa Lovegrove
Roanoke, Va.