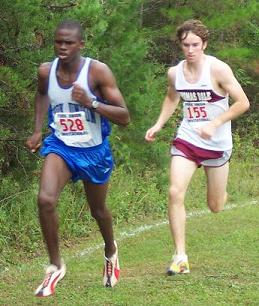 FORK UNION, VA
-- At last year\'s Fork Union Invitational, Fork Union\'s Kippy Keino shot out like a cannon with Alex Tatu of Thomas Dale giving chase as they roared through the mile mark at 4:30. The quick early pace was too much for Tatu, while Keino was able to hold on and win by a substantial margin over Tatu.
In a rematch between two of the state\'s best distance runners, it almost looked like a replay of last year. Keino took it out even faster than last year\'s race with a 4:28 first mile clocking with Tatu trailing just behind Keino at 4:30. Just like last year\'s race, for the next two miles, Keino broke away from Tatu and built a sizable lead to capture the win in a course record shattering time of15:05. The previous course record was 15:23, which was set by Alex Clayton at last year\'s MileStat.com Invitational. Despite losing to Keino by a decent margin, Tatu wasn\'t too far off the old course record for runner-up honors with still a very swift 15:26 clocking.
The boys\' team race was much closer than the much hyped juggernaut battle between Keino and Tatu as the Western Albemarle boys (89 pts) were just able to squeak by a Tatu-led Thomas Dale (90 pts). The Warriors of Western Albemarle, showing a resurgence to get back to the top of AA, were able to place three runners in the top fifteen with Peter Burch (5th, 16:03), Matt Richardson (12th, 16:42), and Alec Lorenzoni (14th, 16:49). Michael Dubovsky (22nd, 17:05) and Brandon Belew (45th, 17:47) rounded out Western\'s top five to keep it a tight race with Thomas Dale. Thomas Dale was a pleasant surprise in the team race as the team has mainly been known as the school that Alex Tatu runs for, instead of Thomas Dale, the team. Well things look to be changing at Thomas Dale because Tatu seems to have found some runners to support him. One of those runners is outstanding freshmen Roger Bothe, who took an eight place finish in the race with a time of 16:16. He\'s currently an unknown throughout the rest of the state, but is well known in the running community in the Richmond area as he was a county champion in cross country and in the two mile in middle school. Also stepping it up for Dale was Jonathan Turnbull (10th, 16:32) and Nick Belcher (19th, 16:59). Though an area of concern for the Knights is at their number five spot as Adam Moncman finished in 58th place with a time of 18:01. At the number five spot was where Western Albemarle took advantaged and secured the team title.
The Western Albemarle girls made it a team sweep by winning the girls\' team title at Fork Union, but in no way made it as close as their male counterparts as they simply toyed with the field with their overwhelming talent. There was no need for the Lady Warriors to even break a sweat as Jessica Fanning (2nd, 18:59), Tasmin Fanning (3rd, 19:09), Gina Casella (4th, 19:25), Courtenay Johnson (9th, 19:51), and Katy Goeke (16th, 20:12) made for one absolutely scary top five. Well scary if you don\'t run for Western Albemarle at least. With top ranked James Robinson being defeated at the Great Meadows Invitational this weekend and Western Albemarle, ranked currently second in the state, having such a jaw-dropping display of dominance at Fork Union, Western Albemarle could very well be the top ranked team in the entire state in this Wednesday\'s rankings.
Out of the Central Region, the Douglas Freeman girls had a solid showing to take second overall with 90 points. The Lady Rebels were led by the duo of Tyler Wallace\'s (8th, 19:48) and Katie Strickler (9th, 19:59).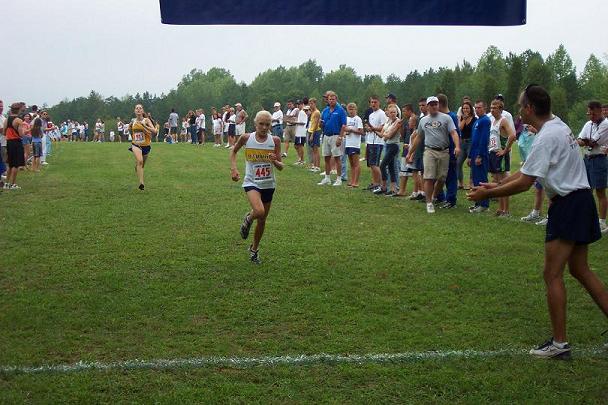 Taking third was perennial independent school powerhouse St. Catherine\'s (135 pts) as they were led by race winner Katie Doswell, who was the only one able to take down the Lady Warriors trio of the Fanning sisters and Casella to win over the three in a time of 18:58.