The Mary Washington girls' cross country team was top finishing Virginian team at last year's NCAA Division III Southeast Cross Country Regional Meet and return with a team this year that will look to improve upon their fourth place finish from a year ago.

Defending regional champs, Emory University (Atlanta, Georgia), will be even tougher to beat this year with the majority of last year's squad returning to go along with having the advantage of racing on their home course for this fall's regional meet. Meanwhile with last year's third place finishing team Rhodes taking a hard hit to graduation, Mary Washington immediately moves up into contention to possibly contend for a runner-up finish at this year's regional meet. The Lady Eagles return one of the region's best distance runners in rising junior Erin Connelly. Connelly had an amazing sophomore year of cross country which included two conference title victories (CAC and Mason-Dixon) as well as a runner-up finish at the regional meet where she ran a season best 6K of 22:02. However, Connelly was M.I.A. during the track season due to injury. She will look to bounce back into top form this fall and challenge for the regional crown. Joining Connelly as returning all-region performers are sophomores Whitney Gray and Macy Zwanzig. Gray (19:34 5K, 23:39 6K) and Zwanzig (20:10 5K, 23:51 6K) made instant impacts to the squads last fall as freshmen and will look to continue to give the Lady Eagles' major contributions this fall. Gray clocked a solid 11:23 3K indoors this past winter. Rachael Haley, Stephanie Churchill, Rachel Ungerer, and Laura Marafinu round out a very youthful squad for Coach Soper that will keep Mary Washington very competitive for many years.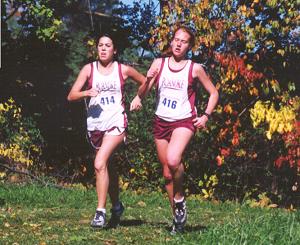 Coach Pincus at Roanoke College also returns a healthy batch of young talent for the 2003 cross country campaign that could close the gap on Mary Washington and pose as a threat. Roanoke is the defending ODAC champions and finished fifth at the regional meet last fall. All-Region runner Brianna Kearney will lead the Maroons as she will be in contention for top ten national advancing place at the regional meet. During the track season, Kearney posted a 11:25 indoors. Coming off a strong track season for Roanoke is rising sophomore Bridget Tainer (11:11 3K, 19:38 5K) as Roanoke will have solid one-two with Kearney and Tainer duking it out for the team's top spot. Ashley Eshagi, Erin Alexander, Lauren Alexander, Christie Van Pelt, and Amy Hoffman also return from last year's region team.
Christopher Newport University will be led by senior Aimee Gibbs, who will look to advance to her fourth and final national cross country meet. Gibbs, finished ninth in last year's regional race and cross country bests of 19:30 in the 5K and 21:17. However, Gibbs really shined on the track last year where during indoors she had the region's second fastest times in the 3K (10:31) and 5K (18:17). In outdoors, Gibbs dipped even lower in the 5K as she ran a personal best 17:49 in her specialty and also posted the regional best 10K time with her 37:06 clocking at the Raleigh Relays. Christopher Newport will need more support from their rising sophomore class which showed a lot of promise last year with Emily Low, Elizabeth Browning, and Meg Fogarty. CNU also picks up a solid recruit in Ashley Ezell from First Colonial (11:44 3200m, 19:29 5K) who should make an immediate impact on the squad.