WATCH LIVE ON MILESPLIT!
53rd Annual Dogwood Track Classic
Friday & Saturday, May 5th & May 6th, 2017
University of Virginias Lannigan Field
Charlottesville, VA
Follow us on Twitter
We are thrilled to announce that this year's meet will once again be streamed live on Flotrack. We hope to produce an equally epic race as last year's 800m
SAT Testing
: We realize that we once again conflict with SAT testing (thus the later start time on Saturday),
BUT
you can always have your kids sign up to take the test in Charlottesville. Several out of area kids did this last year and were still able to compete in Saturday's events. Below are the local testing centers you can sign up for...
EVEN IF YOUR KID HAS SIGNED UP TO TAKE THE SAT ALREADY, IT IS POSSIBLE & EASY TO MOVE THE TESTING CENTER TO CHARLOTTESVILLE
ALBEMARLE HS
Address: 2775 Hydraulic Road, Charlottesville, VA 22901
Center Code: 47190
CHARLOTTESVILLE HS
Address: 1400 Melbourne Road, Charlottesville, VA 22901
Center Code: 47195
THE COVENANT SCHOOL
Address: Upper Campus, Charlottesville, VA 22902
Center Code: 47193
New in 2017
: We will run trials in both the 100 meter dash as well as the 100/110 high hurdles before the 4x800 relays. One section finals will be then completed after the 4x800s.
If any of your questions aren't answered by the below information, email Meet Management.
Timing
: After doing such an excellent job the last several years, we are excited to announce that all events will once again be FAT timed by
Flash Results
, the preeminent timing company in the country that annually handles the NCAA and USATF championship meets. In addition to providing live online results throughout the meet, Flash Results also provides two large scoreboards at the start/finish line that will display start lists, a running time clock, wind readings and instant event results. Since we will also have cameras at the 100 meter start line, we will have the ability to run the 100 meter & the 100/110 high hurdles backwards depending on the wind direction.
Flash Results also gives exact FAT relay splits, as well as 400m splits for all the distance races. To check out the full extent of their abilities,
check out last year's results.
2017 Time Schedule (Just Updated)
Note that 100 dash & 100/110 hurdle prelims will be before the 4x800 relays with one section finals immediately following the 4x800s.
Friday
5:00pm
Gates Open
6:00pm
Girls SMR (200-200-400-800)
6:15pm
Boys SMR (200-200-400-800)
6:35pm
Girls DMR (1200-400-800-1600)
6:50pm
Boys DMR (1200-400-800-1600)
7:05pm
Girls 2K Steeple
7:20pm
Boys 2K Steeple
Saturday
8:30am
Gates Open
10:30am:
Coaches Meeting
11:00am:
First Round of Field Events (Girls PV, Girls TJ, Boys LJ, Girls HJ, Boys Shot, Girls Discus)
1:00pm:
Girls Shot & Boys HJ
Boys PV, Boys TJ, Girls LJ, Boys Discus:
Immediately Following First Round
11:30am:
Boys 100 Dash Prelims
11:50am:
Girls 100 Dash Prelims
12:10pm:
Boys 110 Hurdle Prelims
12:25:
Girls 100 Hurdle Prelims
12:40:
Girls Invitational 800 (Top Section)
12:45:
Girls 4x800 Relay
1:10:
Boys 4x800 Relay
1:42:
Girls 100 Hurdle Finals (One Section)
1:46:
Boys 110 Hurdle Finals (One Section)
1:49:
Girls 100 Dash Finals (One Section)
1:52:
Boys 100 Dash Finals (One Section)
1:55:
Girls 1600
2:35:
Boys 1600
3:25:
Girls 4x100 Relay
3:35:
Boys 4x100 Relay
3:50:
Girls 400
4:15:
Boys 400
4:40:
Girls 300 Hurdles
5:00:
Boys 300 Hurdles
5:15:
Girls 800
5:40:
Boys 800
6:10:
Girls 200
6:25:
Boys 200
6:45:
Girls 3200
7:30:
Boys 3200
8:20:
Girls 4x400 Relay
8:50:
Boys 4x400 Relay
Sanction:
Meet will be sanctioned by the state association VHSL as well as for Connecticut, District of Columbia, Florida, Georgia, Kentucky, Massachusetts, New Jersey, New York, North Carolina, Pennsylvania, Tennessee (with others to be added potentially). Meet will not be sanctioned for Maryland public schools as we want to allow category 3 private schools from Virginia to compete in the meet. Maryland private schools can compete though.
If you are from a state
not
listed above, please email us to discuss sanctioning.
Online Entry System:
Meet entries will be done online through MileSplit registration system. Coaches need to claim themselves as team admins on their team pages on the MileSplit network in order to have access to do their entries. All entries must be done online. No exceptions.
Entry Deadline:
Entries will close online at Midnight on
Sunday, April 30th.
Deadline also applies to wildcards as well as double entries.
Eighth Graders:
Since the meet is sanctioned by the VHSL, only athletes in grades 9-12 will be allowed to compete.
No exceptions!
Entry Limits:
Teams can enter two individuals per event and one team per relay event. Each team will also be allowed two "wild card" entries per gender (so four total) where they can enter a third person in any event with no minimum standard. The wild card entries should be emailed to
DogwoodTrackClassic@gmail.com
Double Entry Option:
Teams also have the option of paying more money to "double enter" the meet with the option of up to four individuals per event. The only requirement is that all four individuals must have hit the below minimum standards (posted below). If there are events where only three individuals have hit the standard, then that is okay too. Teams that opt for this option will
not
get the two wildcard entries.
If you are interested in this double entry option, please email us at
DogwoodTrackClassic@gmail.com
Teams that pay the regular fee still receive the two wildcard entries, and do not have to hit the minimum standards for double entry. We do ask to keep in mind the "suggested entry guidelines" when entering your two athletes.
Entry Fees:
Regular Entries (2 per event with 2 wildcards)
$125 per single gender team (7 or more athletes)
$225 per combined boys and girls teams
$10 per individual or $25 per relay (if less than a complete team). Note that individuals competing in multiple events only pay $10 total. So if a kid runs the 100-200-400 and long jumps, he/she would only owe $10 and not $40.
Also note that Milestat will tell you that you owe $125 for the full team, but that is wrong...just pay $10/athlete. Sorry for any confusion.
Double Entries (Up to 4 entries per individual event as long as all have hit minimum standard. If only 3 athletes have hit the standard, that is okay but to get the maximum of 4, ALL athletes must have hit the mark)
$200 per single gender team (double entries)
$300 per combined boys and girls teams (double entries for one gender, regular entries for other)
$350 per combined boys and girls teams (double entries both)
Make checks payable to:
Western Albemarle High School
Attn: Dogwood Track Classic
5941 Rockfish Gap Turnpike
Crozet, VA 22932
We will run rain or shine.
There will be no refunds.
Minimum Standards for Double Entry:
LJ - 16-0/20-06
HJ - 4-10/6-0
TJ - 33-0/41-02
PV - 8-06/12-0
SP - 34-0/46-00
DT - 102-00/132-00
100m - 13.20/11.55
200m - 27.50/23.50
400m - 63.50/53.15
800m - 2:33.0/2:05.50
1600m - 5:38.0/4:45.0
3200m - 12:30.0/10:30.0
100H/110H - 17.40/16.20
300H - 53.65/43.10
Suggested Entry Guidelines (For Regular Entry):
LJ - 14-6/19-0
HJ - 4-08/5-08
TJ - 30-6/39-0
PV - 8-0/10-06
SP - 28-0/38-0
DT - 80-0/105-0
100m - 14.2/12.3
200m - 29.0/25.0
400m - 67.0/56.0
800m - 2:40.0/2:16.0
1600m - 6:00.0/5:04.0
3200m - 13:20/10:50.0
100mH - 20.0/18.0
300mH - 62.0/47.0
4x100m - 56.0/47.0
4x400m - 4:32.0/3:38.0
4x800m - 11:20.0/9:20.0
SMR - 4:30.0/4:00.0
DMR - 14:00.0/11:40.0
Awards:
Just like last year, we will forgo medals BUT instead will give out Asics goods to the top three individuals and top two relay teams in each event.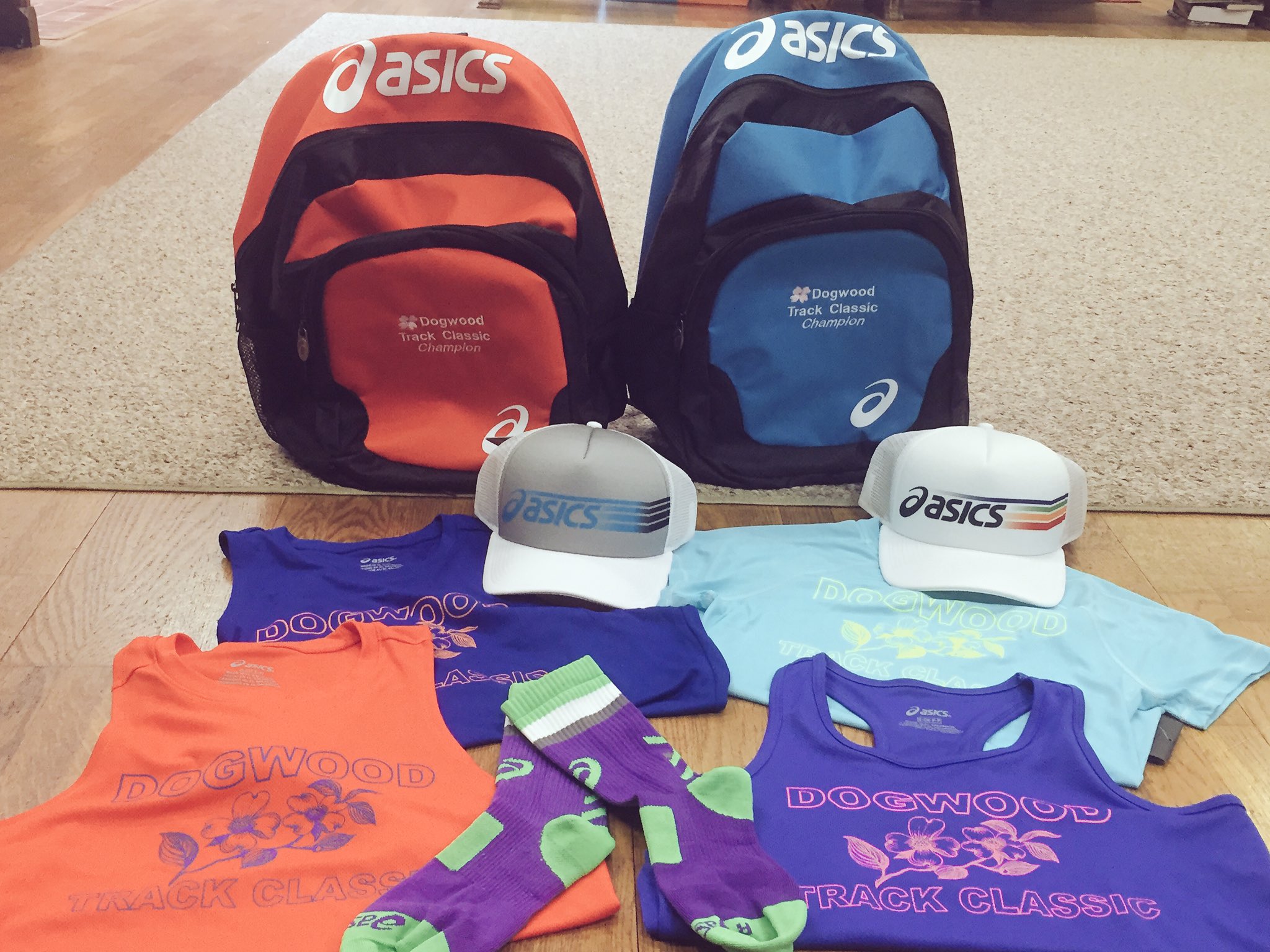 Parking:
Parking will be available for
free
on both days, but in different locations. Due to a concert on Friday night,
everyone
must park in the
Ivy/Emmet Garage
on Friday. On Saturday, parking will be available in the UHall lot directly across from the track.
Admission Fee:
$5 per person on Saturday. Free to children under 10. Fridays events will be Free.
Athlete/Coach Entrance:
All athletes and coaches will enter the facility through the side gate near the shed and the top of the homestretch. Athletes will need a number to get into the gate and coaches will need to display their coachs pass. The front gate will not be available to athletes and coaches, only spectators.
Packet Pick-Up:
Coaches can pick up their packets at the coaches/athletes entrance near the shed and the top of the homestretch.
Lane Preference:
For distance events with waterfall starts, we will seed best to worst from outside to inside lanes.
Heat/Flight Order:
All running events will have the heats go fast to slow.
All field events will be the opposite, with the highest seeded flights going last.
Attempts in Field Events:
Athletes in each preliminary flight of the long jump, triple jump, shot put, and discus will be given three attempts. Note that if an athlete fouls all three attempts, they will NOT be given another attempt. The top 9 overall from all flights will then advance onto the finals with 3 more attempts.
Minimum Marks in Field Events:
All field events athletes in the long jump, triple jump, shot put, and discus will have their first legal mark measured. All remaining legal attempts must meet the below minimum marks in order to be measured.
However, if an athlete fouls all three of their attempts, they will NOT be allowed another attempt to hit a legal mark.
Girls Long Jump - 14'0"
Boys Long Jump - 18'0"
Girls Triple Jump - 30'0"
Boys Triple Jump - 38'0"
Girls Shot Put - 27'0"
Boys Shot Put - 37'0"
Girls Discus - 75'0"
Boys Discus - 100'0"
Starting Heights in Field Events:
Girls High Jump - 4'6"
Boys High Jump - 5'6"
Girls Pole Vault - 7'6
Boys Pole Vault - 9'6
Relay Cards:
Relays will be required to turn in relay cards in correct order at check-in for their relay events. Relay cards will be in each team's packets.
Infield Access:
No coaches or athletes will be permitted on the infield area on Friday or Saturday at Lannigan Field and will be grounds for disqualification. We will strictly enforce this on Saturday at Lannigan Field as UVa wants to protect their grass infield area for other events. No electronic devices (cell phones, iPods, CD/MP players, etc) are allowed in the competition area. This rule is in place for your and others safety.
T-Shirts & Concession:
Both T-shirts and concession stand vendors will be on-site to sell meet apparel and food.