Millbrook High School would like to invite you to run in the 3rd annual Third Battle Invitational, held on the site of the Third Battle of Winchester with the cooperation of the Civil War Preservation Trust.
For Information, contact:
Activities Director, Chris Garber garberc@frederick.k12.va.us
Head Coach, Kevin Shirk shirkk@frederick.k12.va.us
Millbrook High School: 540-545-2800
Schedule
:
7:30-8:45 AM Registration for Open Race Located at Finish
9:00 AM Coaches Meeting
9:00 AM Open Race
9:45 AM Girls' JV (unlimited participants)
10:30 AM Boys' JV (unlimited participants)
11:00 AM Girls' Varsity (8 runners, only 7 count)
11:30 AM Boys' Varsity (8 runners, only 7 count)
Cost
: $150 per school,
School Payments can be made payable to Millbrook HS
Payments can be sent to:
Chris Garber, CSA
Millbrook HS
251 First Woods Drive
Winchester, VA. 22603
$10 per individual in the Open Race payable on the day of the race.
Course Description
: Fast 5,000m course on the historic Third Battle of Winchester battlefield, located adjacent to Millbrook High School's campus. The course will run on a variety of surfaces including grass, dirt, crushed stone, and some small gravel. The course consists of mostly flat land and small rolling hills. The course runs through cut grass and wide public walking paths. Racing flats or rubber-soled XC spikes are best suited for this course. We do not recommend plastic-plate track spikes due to occasional loose gravel.
Course Picture
: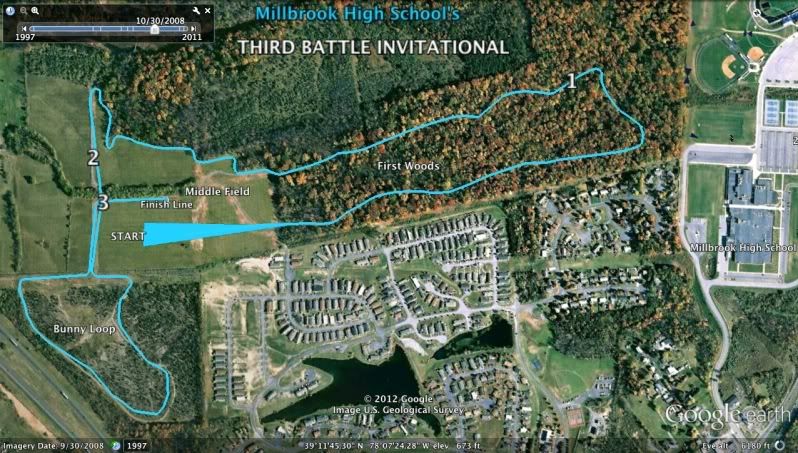 Entry Process
: Online via milestat.com
Entries are DUE BY TUESDAY, 10/9/12 at midnight.
Coaches do NOT have to declare athletes in races until the day of the race. We are allowing 8 runners in the varsity race because this is a late season race and a chance for coaches to finalize their top 7 runners for the upcoming post-season. Team scores will only go through 7 runners (1-5 scoring, 6 & 7 displacing, 8 not counting at all). Unlimited JV runners.
Awards
:
-Top 15 Varsity runners receive custom medals. First place girl and boy will receive acrylic plaques in addition to their medals.
-Top 2 teams receive engraved acrylic plaques.
Medal Design: Medals are designed in the shape of a Virginia Historical Marker, showing the canopy of trees associated with the Third Winchester Battlefield, as well as runners producing shadows of Civil War soldiers.
Medals
-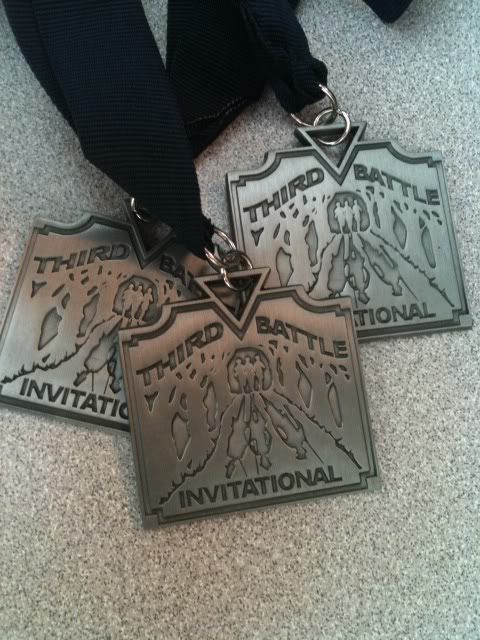 T-Shirts:
: Will be made on site by American Screen Printing. Short sleeve white and grey are $15.00; Long sleeve white and grey are $18.00; Short sleeve tie dyes are $22.00; Hoodies are $25.00.
Spectator Parking
: Located at Millbrook High School. Parking is approximately 1000m (.62 miles) from the starting line.
No gate fees!
Absolutely NO PARKING IN THE REGENCY LAKES NEIGHBORHOOD. They will tow cars.
Team Drop-Off: Teams are now being asked to drop off athletes at Millbrook High School only. We apologize for the inconvenience.
Boys Course Records
:
1. 15:39 Thomas Delaney John Handley HS 2010
2. 15:43 Seamas OReilly Warren County 2010
3. 16:01 Thomas Madden Skyline 2011
4. 16:27 Clay Jones Skyline 2011
5. 16:29 Ryan Farnan Millbrook 2010
6. 16:30 Sean Park Skyline 2011
7. 16:37 Cody Wright James Wood HS 2010
8. 16:45 Joe Davet James Wood HS 2011
9. 16:49 Chris Arslan John Handley HS 2011
10 16:54 Brady Guertin Stone Bridge 2011
Girls Course Records
:
1. 17:59 Crystal Nelson Millbrook 2011
2. 18:54 Krista DeCeault Sherando 2010
3. 19:09 Kayla Gibbons Warren County 2010
4. 19:24 Karly Knechtel Millbrook 2011
5. 19:43 Leanna Eisenman Warren County 2010
19:43 Noa Sager Skyline 2011
7. 19:45 Ashden PersoniusJohn Handley HS 2011
8. 19:52 Bonny Turnage Lee Davis 2011
9. 19:56 Cindy Quarles John Handley HS 2011
10. 20:05 Abigail PolizottoLoudoun Valley 2010
Registration help:
http://www.milesplit.us/pages/Online_Meet_Reg_Instructions
Note that these instructions are on the US Portal and you will have to return to your state site to actually find your team and enter the meet.