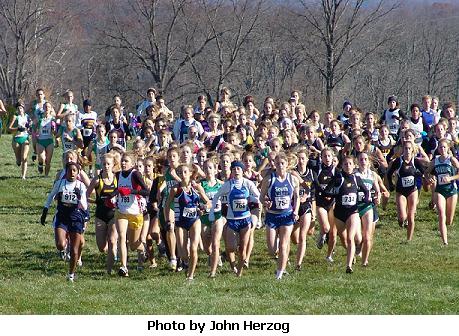 THE PLAINS, VA
-- \"Dewey wins!\" is not a misprint this time. Melissa Dewey of Hayfield shook off Aurora Scott of Western Branch a little past the one mile mark and was never challenged as she claimed the AAA Girl\'s State individual title with a winning margin of over a minute. Even though she looked at ease, Dewey said, \" I was really nervous today, and I didn\'t know if I could win.\" Michael Chapa had a running partner in Patterson Wilhelm of E.C. Glass for a mile and a half, but Chapa from J.R. Tucker pulled away for an easy 34 second win over Richard Andrews of Douglas Freeman who edged Patterson for the runner-up spot. Patterson added, \" I thought someone should give him a race.\" In the end, it was not a race for first, but a dogfight for runner-up.
Catherine White of Northside shocked the AA followers as she beat favored Tasmin Fanning of Western Albemarle. White stayed right off of Fanning\'s shoulder for 3 miles and sprinted past her over the final stretch. The athletic and impressive White looked as though she had plenty left in the tank. Pat Eggleston of Brentsville District had his work cut out as he held off the determined Jason Yonts of Marion for a 5 second win. At the first mile, John Horst of Christiansburg, Zack Edwards of Northside, and Yonts led the field through in 5:09. Eggleston waited until about the mile and a half mark and did not take the lead until the 2 mile mark as he led Yonts by the 2 mile flag with a lead of 3 seconds.
Kelly Clark of Glenvar led for the entire race until the final stretch as Danielle Moyer of Clark County claimed the A State title. Clark gave a great effort, but she could not go at the end. In the Single A boy\'s race, sophomore Simon Biddle-Snead would take charge just before the 2 mile mark as he claimed the Single A title from Tim Young of James Monroe. Young had his hands full with the likes of Peter Serkes of Nelson County and Will Jacobs of James Monroe.
With a muddy course and a strong cold wind, the times were slow, but as always the races were exciting.
AAA RECAP: DEWEY AND CHAPA DESTROYED THE AAA COMPETITION, THOMAS JEFFERSON BOYS AND LAKE BRADDOCK GIRLS GRAB AAA TROPHIES

AAA Boys Race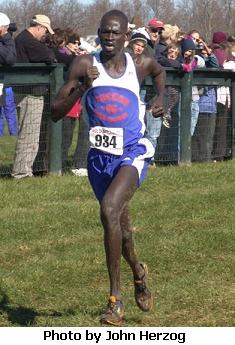 Unlike last year when the AAA boy's race was one of the most highly contested individual races, this year's race was decided at about a mile and a half into the race. At the first mile marker, J.R. Tucker's Michael Chapa, Patterson Wilhelm of E.C. Glass, and Adam Hutton of Western Branch came through in about 4:59 with the field trailing. At the midpoint of the race, Chapa a junior began to create a small gap with Wilhelm a few steps back. Dogging Wilhelm were the two runners from Douglas Freeman, Richard Andrews and Cabell Rosanelli. By the two mile mark, Chapa had opened up a 13 second lead as he came through the two mile mark in 10:13. Wilhelm came through in 10:26 and Andrews was on his heals in 10:28. In the end, it was Chapa of the Richmond based Tigers all alone crossing the 3.1 mile course finish line in a fast 15:54.03 on a wet, muddy, cold, and windy day. Andrews would take 2nd in 16:28 as Wilhelm who had faded fought back courageously to take 3rd in 16:29.60. Rounding out the top 5 were, Mitch Cooper of Kellam in16:31.48 and Brad Siragusa of Chantilly with a time of 16:31.85. Chapa appears to be Virginia's best chance for a Foot Locker finalist. After the race, I spoke with Patterson Wilhelm and he said the conditions were terrible. "I could hardly move, and my feet were getting stuck. I thought somebody should give him (Chapa) a race. His starting box was beside mine, so I decided I would follow him." It was a gutsy move, but Chapa was never out of control of the race.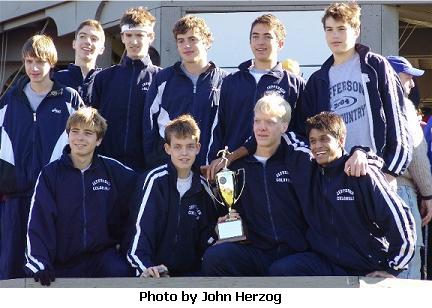 The Thomas Jefferson boys\' team took home the championship trophy even though they did not have a single runner achieve the top 15 All-State designation and their 5th place runner came across in 34th place. It just goes to show that it is a team effort and not everyone or even anyone has to be All-State for a team to win. However, it was good enough for a 43 point victory over runner-up West Potomac. J.R. Tucker held off Douglas Freeman for the 3rd place trophy.
AAA Girls Race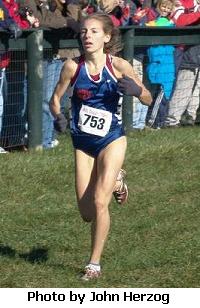 For the historians who either read or heard about the famous newspaper headline which proclaimed Thomas Dewey the winner of the 1948 Presidential election over Harry Truman which turned out to be erroneous, this year a Dewey did win, and it was not even close. Melissa Dewey a senior from Hayfield High School in Alexandria made her school proud as she soared like a hawk as their team mascot is called. At the first mile mark, Dewey was already in the lead as she opened up a 20 meter lead over the freshman phenom, Aurora Scott, from Western Branch of Chesapeake. Dewey would win pulling away with a decisive triumph of 1 minute and 11 seconds over Scott with a time of 18:10.70. Scott would hang on to 2nd with a time of 19:21.90. The surprise of the day in AAA was the third place finish of Brittany Killough of Franklin County High School from Rocky Mount. Killough missed the runner-up spot by less than 3 seconds in 19:24.69. After the race, Dewey said, "I just wanted to try my hardest. I was really nervous, and I didn't know if I could win." Dewey must have been referring to all the hype about the race which was expected to be close. Dewey added, "I was happy with how I did. I was hoping to break 18 minutes, but the conditions were tough." Dewey, who is not committed to a university, is considering a few schools including William and Mary and N.C. State. Rounding out the top 5 were Mollie Hawkins of Colonial Forge in 19:38.32 and Kelly Reinwald of North Stafford in 19:45.91.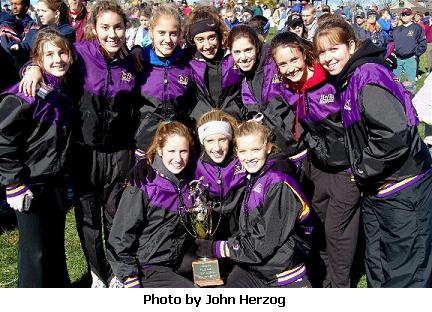 The AAA girls\' team championship trophy went to the Lake Braddock lady Bruins of Burke. The Bruins were led by All-State performers, Kelsey Snowden (6th – 19:52.19) and Michelle Presley (15th – 20:08.10). Lake Braddock scored 82 points, and beat out runner-up James River of Midlothian who tallied 97 points. Maggie Walker's Governor's School took the 3rd place trophy back to Richmond.
AA RECAP: EGGLESTON HOLDS OFF YONTS AS WHITE UPSETS FANNING IN AA, BRENTSVILLE DISTRICT AND WESTERN ALBEMARLE CLAIM AA TITLES
AA Boys Race
The last race of the VHSL State Cross Country Meet was the AA boy's race. By the end of the day, the 5 previous races had taken a toll on the field conditions, and the wind had picked up to about a steady 15 to 20 mile per hour gusts. However, in the end it was Pat Eggleston a senior from Brentsville District High School out of Nokesville who claimed the State Champion title. The expected battle between the States top two AA runners in Eggleston and John Horst of Christiansburg did not materialize. At the first mile, Zack Edwards of Northside High School in Roanoke led the runners in 5:09 as he was closely followed by Jason Yonts of Marion and Horst. At the mile and a half, it was still Edwards in the lead and Yonts on his heals with Eggleston in the 3rd spot as Horst faded. As the runners passed the 2 mile mark, Eggleston had taken the lead as he went through 2 miles in 10:48. Yonts was 3 seconds back in 10:51 and Edwards came through in 10:54. Eggleston would hold off the sensational sophomore from Marion to claim the State title in 17:02.67. Yonts became runner-up with a time of 17:07.05. The surprise of AA boys was the strong finish of Cave Spring's Lee Bradshaw as he took 3rd with his familiar kick in 17:09.77. Rounding out the top 5 for the AA boys were Nick Gehlsen of Brentsville District with a time of 17:11.00 and Matt Bailey of Fort Defiance in 17:13.50.
The dominating win by the Brentsville District boy's team was not a surprise as they placed 4 in the top 15 and 5 in the top 19. Other All-State runners from the Brentsville District Tigers are Jacob Watts (9th -17:17.14) and Henry Melius (17:18.94). 19th place finisher Adam Henken in 17:41.87 assured the team of the first place trophy. Last year's State Championship team, Fort Defiance, would take the runner-up spot followed by Potomac Falls who took the 3rd place trophy.
AA Girls Race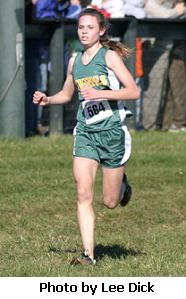 The AA girl's race provided the biggest upset of the day. Tasmin Fanning a senior from Western Albemarle who placed 3rd last year at the VHSL State Meet to Emily Harrison and her sister Jessica was expected to bring home the individual trophy as she had been ranked #1 all year. However, it was Catherine White of Northside High School out of Roanoke, which attained the goal of State Champion. From the start of the race until the 2nd mile, Fanning and White ran shoulder to shoulder with Fanning mostly leading. About the 2- mile mark, Fanning opened up a small gap and it appeared to be increasing. However, on the last hill, White closed the gap again and remained there until the final stretch where she put the hammer down and left Fanning as White claimed Northsides first state champion title. Fanning who ran a hard and determined race did not have enough gas left to put on another surge. White's winning time was 19:23.65, and was the 3rd fastest time of the day for any classification. Fanning closed out her stellar career with the runner-up title and a time of 19:36.75. White, who ran a limited cross-country schedule this season due to her involvement with Roanoke Star U-16 soccer team will have to make a big decision in the future as to which sport will be her choice. Rounding out the top 5 were Samantha Stafford of Western Albemarle in 19:56.31, Stephanie Garcia of Broad Run (20:20.30) and Becky Stewart of Brentsville District (20:24.71).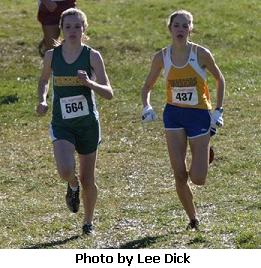 As expected, the #1 ranked Western Albemarle ladies capped off another great season taking home the big trophy back to Albemarle County and the title of State Champions. This is the 3rd year in a row the lady Warriors have earned the coveted state title and trophy. Kelsey Stafford of Western Albemarle also received an All-State medal as she placed a solid 8th with a time of 20:40.04. Led by All-State achievers Stewart and Julia Mitchell, Brentsville District took home the runner-up trophy and Broadway accepted the 3rd place trophy.
A RECAP: MOYER AND BIDDLE-SNEAD GET A STATE TITLES, CLARKE COUNTY WINS TWO TEAM AND TWO INDIVIDUAL A STATE CHAMPIONSHIPS
A Boys Race
The Single A boy's race had a lot of hype going into the race due to some unusual pre-race predictions by one of the competitors that he was going to win. However, in the end four of the top five ranked single A runners placed in the top four. Simon Biddle-Snead a sophomore from Clarke County was the pre-race favorite as he was ranked #1, and he proved the coaches rankings to be accurate as he took the individual trophy with a time of 17:08 and title of State Champion as well as the team trophy back to the orange and blue eagles of Clarke County. At the first mile mark, it was James Monroe senior Tim Young leading a pack with a 5:13 split. When the half waypoint was reached Biddle-Snead and his teammate Ware Smalley were running with Young. By the two-mile mark, Biddle-Snead was all alone and headed for the barn. Young would hold on for the second place spot and runner-up designation with a time of 17:17. Nelson County senior Peter Serkes made a late race push and claimed 3rd place in 17:21. Will Jacobs of James Monroe took 4th place in 17:26. Radford freshman Nathan Brame (17:36) would claim the 5th spot as he edged Smalley (17:38).
Clarke County easily took the team trophy with 55 points as they had three to make All-State. Ned Twigg finished 13th in 18:04 to earn the last of Clarke county's All-State designations. Patrick Henry Glade Spring took the runner-up trophy back to Glade Spring and the Hogoheegee District with 75 points. They were led by Brennan O'Quinn in 8th place with a time of 17:54. Even though Page County had three runners finish in the top twelve, it takes five to win a championship, and they had to settle for the 3rd place trophy with a score of 99 points. Page County's All-State performers were Nathaniel Nelson (7th-17:52), Ethan Price (11th – 17:57), and Jeff Fazier (12th 18:03)
A Girls Race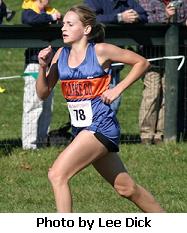 Kelly Clark a junior from Glenvar, and freshman Danielle Moyer of Clarke County had a classic battle of strategy with Clark pushing for a big lead and Moyer rocking steady in the hunt. At the first mile mark, Clark had opened up a sizable lead over Moyer as she came through the first mile in a 6:02. At the midway point, Clark had about a 40-meter lead as Moyer was hanging on. By the two mile mark the lead had increased to over 50 meters. However, the pace and the last hill was more than Clark could bear and she would give in to Moyer on the last downhill of the race. After passing Clark, Moyer found new strength as she cruised to the finish line in 19:52. Clark, who was visibly struggling at the end, would hang on to the runner-up spot as she crossed the line in 20:14. Rounding out the top five for Single A girls were Mariah Hagadone (20:27) from Buffalo Gap, Maggie Lester (20:42) from Patrick Henry Glade Spring, and Ashley Osborne (20:55) from John Battle.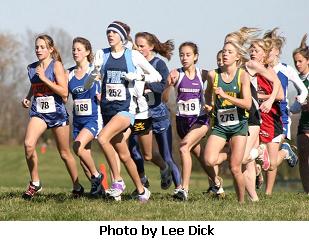 Sparked by Danielle Moyer's victory, the rest of the Clarke County girls took care of business to win the State team championship trophy in the closest race of the day. Clarke was able to edge out Central High School from Woodstock by 3 points. With team victories by the girl's and boy's team, Clarke captured both individual State titles and team State titles for boys and girls. The other All-State performer for Clarke was Elizabeth Mumaw as she finished in 8th place with a time of 21:16. Central almost pulled off the victory as they had 3 girls finish in 10th, 11th, and 12th place to earn All-State medals. The ladies were Katee Knupp (21:20), Adriana Mondragon (21:23), and Christina Eckard (21:26). Defending State Champion Floyd County would get the last trophy as they finished 3rd with 98 points and were led by 13th place finisher Stephanie Link in 21:28.