CHARLOTTE, NC
- The state of Virginia will be sending two representatives to this year's Foot Locker Nationals in Hayfield senior Melissa Dewey and Western Branch freshmen Aurora Scott. Dewey and Scott were among the top eight nationals bound finishers in the girls' seeded race at the Foot Locker South Regional Meet held at McAlpine Greenway Park in Charlotte, North Carolina.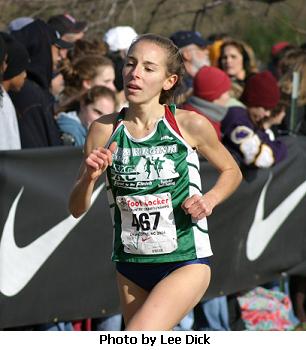 The 2003 Group AAA state cross country champion Dewey did what she needed to do in the race in order to earn her first trip to Foot Locker Nationals as a senior. Dewey put herself among the top eight contenders early on and never dropped back. She went through one mile in 5:27 and found herself in seventh or eighth position as she entered the woods just over two miles. She moved up to fifth in the woods and then moved ahead one more runner in the final stretch where to finish fourth overall with a near personal best time of 17:38. Dewey finished one second off her personal best of 17:37, which she posted in her win at the Glory Days Grill Invitational.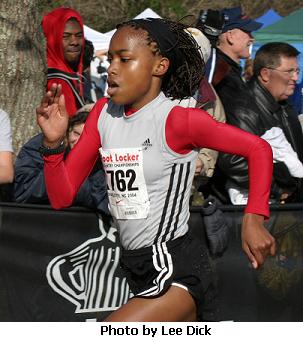 Scott closed just as strong over the final mile if not stronger. Scott, state runner-up to Dewey by over a minute, significantly closed that gap in time differential between the two runners at Foot Locker South. Scott found herself around 13th place near two miles, but picked off six runners in the final mile to finish seventh overall in a personal best time of 17:43.
The third finisher from Virginia was a pleasant surprise in Midlothian senior Amanda Patterson as she finished 14th in a personal best effort of 18:03. Patterson's training had been limited if not non-existant for quite a while during the cross country as she only started running again just over two weeks ago. Patterson All-South and personal best performance will give her plenty of motivation as she heads into the indoor season where she'll have plenty of encounters with the likes of Group AAA counterparts Dewey and Scott.
The next two finishers for state and rounding out the state team scoring for Virginia were Clarke County freshmen Danielle Moyer and St. Catherine's junior Katie Doswell. Moyer, the Group A state cross country champion, ran a sensational race to finish 31st overall in a time of 18:35. Meanwhile, Doswell, the Private Schools state cross country champion, finished one tick behind at 18:36 in 33rd place.
Also dipping under 19 minutes in the seeded girls' race from Virginia were Forest Park junior Stefanie Slekis (43rd, 18:46) and The Potomac School sophomore Michaeline Nelson (59th, 18:58).
The Virginia girls finished third in the state team scoring with 89 points as Texas (58 pts) and Florida (70 pts) finished first and second respectively.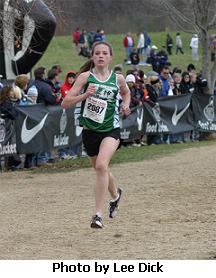 The Virginia girls dominated the freshmen and sophomore division race with four of the top six finishers including race winner Catherine White. White, a sophomore from Northside High School, won the race by a 25 second margin in a time of 18:33. The Group AA state cross country champion would have finished 31st in the seeded race with such a time. Finishing under 19 minutes along with White and take race runner-up honors was North Stafford freshmen Kelly Reinwald in a time of 18:58. A familiar rival for Reinwald, Colonial Forge sophomore Molly Hawkins finished not too far behind in a time of 19:06 for a fourth place finish. Private Schools state cross country runner-up, Grace Loba of the Highland School, finished sixth in a race with a time of 19:08. Midlothian freshmen Erin Stehle (16th, 19:34) and Christine Selander (21st, 19:39) were the next finishers from Virginia.
The Virginia girls were equally as successful in the junior and senior girls' race division with another race winner as well as other strong individual finishers.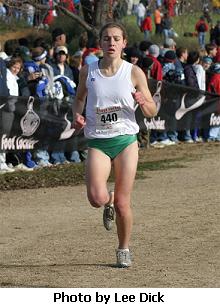 Maggie Walker junior Samantha DeAlto dropped her personal best time by a significant margin of 45 seconds to win the race in a time of 18:42. Her previous best was 19:27. Maggie Walker teammate Emily Wauford was also a top five finisher. Wauford, a senior, finished fourth overall in the race with a time of 19:02. Finishing ten seconds behind Wauford and in fifth place was E.C. Glass junior Sallie Ford in a time of 19:12. The next two finishers from Virginia were West Potomac senior Laura Regensburg (14th, 19:26) and Cox senior Aspen Foster (17th, 19:29).
For the second consecutive year, the state of Virginia will not be sending a boys' representative to Foot Locker Nationals. Very disappointing for state that traditionally has sent at least one if not two or three individuals in many years.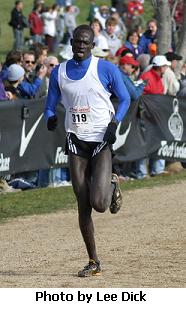 The state's best hope to qualify for Foot Locker Nationals was J.R. Tucker senior Michael Chapa. Chapa was the Group AAA state cross country champion and owned a personal best 5K time of 15:12. Chapa took a spill early in the race and seemed to never get himself in the position he needed to be in order to finish among the top eight as he had to play catchup from there. In the boys' seeded race, a number of boys fell on the left side on the first start. When the race was restarted, about 200 meters down the way, Michael got tangled with a couple of runners and they all went down. Massaponax senior Brandon Dick stated: "I nearly went down with them and had to jump over Michael". Obviously, he had to do a lot of catching up to do being far back in the field by the time he got up and got back to speed. In the end, he closed the gap to 7 seconds from the nearest qualifier. No doubt, had the unfortunate tumble not have occurred, he would have easily made the top 8, and most likely the top 4. Chapa finished an admirable 10th overall in a time of 15:13.
Douglas Freeman's Richard Andrews capped off what has been superb finish to his senior year of cross country with a 14th place finishing time of 15:24. It was the first time Andrews has ever broken 16 minutes and he did it in a big way by dropping his previous personal best by 36 seconds. Chantilly junior Brad Siragusa (17th, 15:30), Robert E. Lee senior Dawit Legesse (20th, 15:30), and E.C. Glass junior Patterson Wilhelm (21st, 15:31) all ran personal bests as well as earned All-South honors with their performances.
Eight other Virginians also went under 16 minutes in the seeded race with J.R. Tucker senior Mason McElroy (23rd, 15:33), Western Branch senior Adam Hutton (27th, 15:35), Brentsville senior Patrick Eggleston (36th, 15:45), Ocean Lakes senior Andrew Midland (40th, 15:47), Culpeper County junior Devin Cornwall (44th, 15:48), Forest Park senior Bryce Iverson (46th, 15:49), Thomas Jefferson senior Kyle Smith (55th, 15:56), and West Springfield sophomore Michael Spooner (64th, 15:58).
Siragusa, Wilhelm, Cornwall, Spooner, and Christiansburg junior John Horst (11th, 16:02) will be the top five returning runners for next year's Foot Locker South.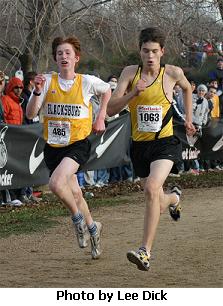 Virginia was the clear winner of the freshmen boys' race with their five runners among the top ten finishers. Leading the charge for the state was Thomas Jefferson freshmen Brian Landry as he took runner-up honors in a time of 16:36. Brian Landry is the younger brother of Christo Landry, who earlier in the week earned All-American honors as a freshmen at the NCAA Division I National Cross Country Championships for the College of William & Mary. One second behind Landry was fellow Virginia freshmen Peter Dorrell of Blacksburg in third place with a time of 16:37. Showcasing some bright future stars for the state were strong finishes from Jefferson Forest's Matthew Kadak (5th, 16:40), Covenant's Austin Ellis (6th, 16:42), and E.C. Glass' Nathan Richards (10th, 16:44).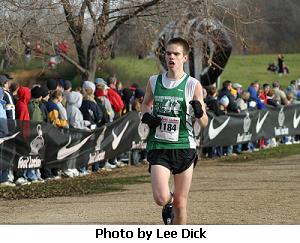 Western Albemarle's Will Massie (11th, 16:28) and Midlothian's Jonathan Mellis (15th, 16:30) led the state in the sophomore boys' race with top 15 individual finishes.
Six juniors from Virginia finished among the top 20 in the junior boys' race as the state once again came ahead of the rest in the state team scoring. Fort Defiance's Derek Hizer was the top state finisher in sixth place with a time of 16:11. Battlefield's Jason Driscoll (8th, 16:15), James Monroe's Will Jacobs (13th, 16:22), Fort Defiance's Matt Bailey (14th, 16:27), North Stafford's Alec Meyer (16th, 16:29), and Northside's Zach Edwards (17th, 16:31) all had strong individual runs in Charlotte.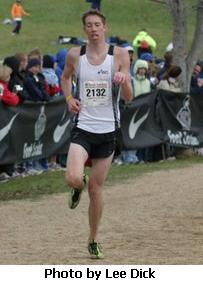 While Midlothian senior Kurt Witt fell short in making three times in a row that a Midlothian runner has won the senior race ('02 - Brandon Miles - 15:51; '03 - Ryan Witt - 15:50), he did come away with a personal best time of 16:04 as he finished fourth overall in the race. Episcopal's Ryan Woodlee, the Private Schools state cross country champion, was the next finisher from Virginia in a time of 16:10. James River's Cory Scott (12th, 16:26), J.R. Tucker's Ben Rickey (14th, 16:27), and Fort Defiance's Daniel Stewart (15th, 16:29) rounded out the state's team scoring as top 15 finishers overall.