As the collegiate athletes are just starting to return to their respective campuses this fall in Virginia, one can only be excited for the upcoming cross country season in store. Many schools and individuals have goals set for themselves this fall whether it be as meager as just trying to find five bodies to field a team or just to be able to make the team at the time trial in late August to as big as advancing a team to a NCAA national cross country meet or earning All-American honors individually.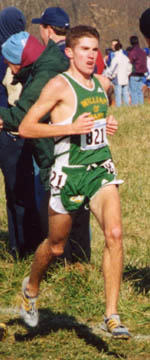 William & Mary, the only Virginia male team to advance to the national stage at any level for cross country for the past several years, will be looking to make a return trip this fall with new coach Alex Gibby under the helm. With former coach Andrew Gerard bolting west to take the head coaching job at national powerhouse Stanford University, Gibby takes over his mentor's program with a very young squad that will look to replenish itself with some new blood after some heavy graduation loses. Last year's Tribe men finished an impressive fourteenth place at the NCAA Division I cross country championships. William & Mary was the Southeast regional runner-up to N.C. State, but then ended up topping the Wolfpack at nationals to be the highest finishing school from the region. Returning from that team is All-American senior Ed Moran, sophomore Matt Keally, junior Charlie Hurt, and senior Adam Otstott. Moran was the Southeast regional runner-up last fall (29:50.7) and will be one of the favorites to win the region this year as well as repeat his All-American 26th place (30:27.5) performance at nationals. Keally had a sensational freshmen year which included an amazing nationals race (87th, 31:13.5 8K) where he ran number three for the team. Hurt continues to dramatically improve in the William & Mary program as he ran in the number five slot (135th, 31:51.5) for the team at nationals. Otstot was not too far behind Hurt at nationals last year (140th, 31:53.0) and the two will key off each other to form formidable top four for William & Mary. The reason why William & Mary should not miss a beat and return to the national meet this fall is because they have by far one of the strongest "B" teams in the region with a slew of runners hovering around 26 minutes for the 8K. Leading that group is All-East performers Brendan Gaffney (senior from Western Springs, IL) and Sean Anastasia-Murphy (sophomore from Gloucester, MA) from last year's ICA4A Championships at Van Courtland Park as William & Mary's "B" team took runner-up honors there last November. Gaffney finished ninth in the 8K event (25:34), while Anastasia-Murphy finished seventeenth (25:48). Junior Jeff Hedley (Kempsville HS), sophomore Brian Doherty (Roanoke Catholic), sophomore Wes Boone (Cary, NC), and junior Jessie Contario (Newark, NY) among other non-varsity members of last year's squad are expected to contend for top seven spots. Gerard also left new coach Gibby a nice welcome back home present in the form of half a dozen all-state caliber cross country recruits coming in this fall with Tommy Antenucci (Abingdon), Anthony Arena (Osbourn Park), Keith Bechtol (Thomas Jefferson S&T), Steve Hoogland (Lake Braddock), Dan Nally (Liberty), and Jonna Reinhardt (Jamestown) all expected to sport the Tribe's singlets this fall. Many people also forget that Matt Maline, the 2001 CAA freshmen of the year, will be returning this fall after being forced to set out last fall due to injury. Maline as a freshmen clocked a 24:39 8K during cross country.

Setting up for an interesting coaching rivalry for years to come with Gibby's new position at William & Mary, is the one that will exist between the two top cross country programs in the state with William & Mary and the University of Virginia, which the Cavaliers are coached by Gibby's former teammate at William & Mary, Jason Dunn. Dunn has elevated the Virginia program in his short two year tenure at the school. Last year's squad finished third at the ACC championships behind eventual regional champions N.C. State and Duke, then finished a solid fourth at the regional meet behind the two respective ACC schools and William & Mary. Five members return from that squad including senior Andy Filacheck (18th regions, 30:39.8), junior Will Christian (22nd, 30:45.8), senior Walton Kingsberry (30th, 30:58.4), junior Ryan Neuhart (43rd, 31:26.4), and junior Dave Vitto (74th, 32:15.3). The upperclassmen dominated group will be joined by a threesome of freshmen that are certain to make immediate impacts on the squad with high school state champion and All-American Alex Tatu of Thomas Dale (4:10 1600m, 9:06 3200m, 15:42 5K), Daniel Kane of Louisa County (4:15 1600m, 9:20 3200m 15:18 5K), and Ryan Foster of Sherando (4:14 1600m, 9:16 3200m, 15:38 5K). William & Mary's reign as the top cross country program in the state may end up be severely challenged this fall by the Wahoos from Charlottesville.

James Madison University returns their entire top six runners from last year's seventh place finishing team at the Southeast regional meet. The Dukes will be led by rising junior Evan Kays (32nd regions, 31:01.3). Kays will be supported by fellow Southeast regional meet returnees senior John Fraser (33rd, 31:02.6), junior Allen Carr (44th, 31:28.0), junior Mark Bahunk (46th, 31:31.5), junior Barry Rodgers (77th, 32:17.7), and sophomore Josiah Cadle (82nd, 32:30.2). Not even included in that regional lineup are solid returnees Bill Meador (9:06 3K Steeple), Ted Herbert (15:12 5K) and Travis Lambert. The addition of incoming recruit C.W. Moran from Potomac Falls High School does not hurt with Moran having times of a 9:07 3200 meter and 15:42 5K under his belt. Despite budget cuts to the program, Coach Dave Rinker has his Dukes headed back in the right direction with the group he has returning this fall.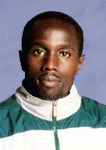 Norfolk State University, which finished a surprising twelveth at the Southeast regional meet last fall, will be led once again by the Kenyan duo of junior Duncan Bitok and senior Joseph Terer. With the exception of Moran, Bitok is top returning Virginia collegiate from last year's regional meet, where he finished an impressive fourteenth place (30:38.2). Terer (42nd regions, 31:25.7) along with rising senior Thomas Hightower (51st, 31:39.8) helped make for a solid first three for the Spartans last fall. However, the pack behind the two East Africans and Hightower will need to close the gap as nearly a two minute existed between three and four last fall at the regional meet. Senior Williak Keown, sophomore Patrick Scott, and sophomore Daniel Helfrick's improvement will be key to Norfolk State's success this season.
The Hokies from Virginia Tech return four runners from last year's squad, which finished thirteenth at the regional meet in Greenville, North Carolina. Returning is top runner Dave Atkiss, who finished 34th at regions last fall. Mike Lawson (80th regions, 32:27.6) returns as well from a solid track season where he dipped under 4:10 for the mile. A big loss for Tech will be loss of Casey Frazier's services for his upcoming junior year as he will be studying abroard.
University of Richmond coach Steve Taylor is taking his team in the right direction as he hopes his squad can improve upon their fifteenth place finish at last year's regional meet. Senior Jon Lauder will lead the Spiders this season with four returnees from last year's squad.